Colorado Has Been Giving Away Free Contraception for Six Years — Here Are the Results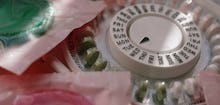 In 2008, Colorado decided to offer free contraception, in the form of an intrauterine device, to poor women and teenage girls, the most at-risk groups for unwanted pregnancies. Six years later, the results are in, and they could not be clearer. 
Statistics from the Colorado Department of Health and Environment show that when IUDs were readily available between between 2009 and 2013, the abortion rate for girls 15 to 19 years old fell 42%. The data also indicated a 40% decline in the birthrate among the same demographic. The state reported Colorado's overall teen birthrate had declined more rapidly than any other state in the U.S. 
The news came as a surprise to many in the Centennial state who had been unsure whether the women would make use of contraceptive devices even if they were free. 
"Our demographer came into my office with a chart and said, 'Greta, look at this, we've never seen this before,'" Greta Klingler, the family planning supervisor for the State's public health department, told the New York Times.
While teen birthrates have dropped throughout the nation, there is little doubt that Colorado's pioneering experiment helped that state go above and beyond.
"Our Colorado Family Planning Initiative has helped thousands of young women who weren't ready to have children avoid pregnancy with affordable, safe and effective contraceptives," Colorado Gov. John Hickenlooper said in a statement last year, when the results were already evident. 
The news was also likely bolstered by the the state's progressive attitude toward sexual education. Thanks to a law Hickenlooper signed in 2013, Colorado now provides "comprehensive human sexuality education," which has also been shown to reduce teen births far more effectively than abstinence-only education.
Nevertheless, there has been some pushback. In 2014, Carrie Gordon Earll of Focus on the Family, a conservative Christian group, told the Denver Post, "Availability of contraception leads to increased sexual activity, which leads to unintended pregnancies and abortions."
Despite conservative claims, however, the science is clear: Contraceptives and substantial sexual education work. So will states around the country adopt similarly progressive models? Even in Colorado — where the contraceptive program was funded by a private grant — the question remains of how the state will finance the project long-term. 
The Affordable Care Act, which specifically requires coverage of contraception, including IUDs, still has a number of kinks to work out, including state plans that require payments or violate the law by declining certain methods, the Times reported. While the United States is still a long way from bringing these numbers down to zero, Colorado's success shows the task is not impossible.