This Effortlessly Simple Life Advice From the Man Behind Burt's Bees Is All We Really Need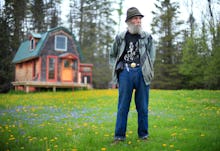 Burt Shavitz, the bearded man whose face and spirit created the beloved brand Burt's Bees, died on Sunday at 80.
Shavitz passed away in his rural home in Maine, according to the Associated Press. While he was surrounded by family and friends, Shavitz was never one to embrace a crowd. In fact, his life story is as true to the Burt's Bees images as you can get: unpretentious, wholly original and all natural. 
"Burt was a complex man who sought a simple life in pace with the seasons of nature on his land," read a company statement on the death of its co-founder. "If there is one thing we will remember from Burt's life, in our fast-paced, hi-tech culture, it's to never lose sight of our relationship with nature." 
Which is why the trending hashtag around the loss of Burt Shavitz, #BurtLivesOn, is actually an important one. We'll keep on using our Burt's mint lip balms, but we could also use some of Burt's honest, humble, straightforward wisdom on life. 
"I had no desire to be a upward-mobile, rising yuppie."
Shavitz was a reclusive man who held a deep appreciation for nature. He actually worked as a photojournalist for Time and Life after serving in the army in Germany, but he eventually made his way to Maine, where he took up beekeeping. It was after a chance encounter with a single mom, Roxanne Quimby, who was hitchhiking at the time, that the two began working together. 
In the 1980s, Quimby started making products from Shavitz's beeswax and honey, and thus was born the massively successful line of natural products that is known today as Burt's Bees. But his life ambitions were much simpler. He said in the 2013 documentary Burt's Buzz that getting rich wasn't his goal, and being a "rising yuppie" didn't hold any interest for him.
"I've been extremely fortunate for an entire lifetime — as long as I wasn't in urban America."
City life never sat well with Shavitz. In a Q&A with the New York Times in 2014, he said that he'd been fortunate enough to learn the beekeeping trade from a "patient, knowledgeable and even-tempered" man. Thank goodness he got out of the city, Shavitz later told a New Yorker reporter, looking at an old photo he'd taken of a dour elderly man. "As soon as I took this shot, I knew that that would be me, 90 years old and unable to go outside, if I didn't get the hell out," he said.
"Everybody has their own idea of what a good place to be is, and this is mine." 
Shavitz moved to Maine after a childhood visit with his parents left him feeling inspired. Sebago Lake in Maine was like "the Garden of Eden," he told the New York Times in 2014, with "all these lakes, ponds and streams, and zero restrictions." Once he moved there, he was perfectly content with his 40 acres of land, saying "it's good and sufficient and it takes good care of me."
Other people may strive for bigger or more beautiful homes, or zip codes in bustling cities. Shavitz never really needed much more than he had. 
"A good day is when no one shows up and you don't have to go anywhere."
Shavitz became a sort of living icon for the brand once it took off, as the documentary Burt's Buzz showed. But he obliged not because he had any interest in stardom or renown; his preference always remained for living simply, without the rush and fuss that goes along with chaotic city life and professional striving. 
As Marlow Stern of the Daily Beast put it in 2013, "You've seen Burt Shavitz before ... But the septuagenarian co-founder of Burt's Bees, the ecofriendly personal care products company, isn't too keen on seeing you."
"In the long run, I got the land, and land is everything ... and money is nothing really worth squabbling about."
In Burt's Buzz, Shavitz tells the camera that money wasn't worth much to him. After partnering with Quimby in the 1980s to launch his eponymous company, he said he was forced out after he had an affair with an employee. He ended up with 37 acres of land and an undisclosed amount of money, according to the Seattle Times. 
Quimby later went on to make more than $300 million after selling the company to Clorox, and she disputed that Shavitz had been treated unfairly in the ordeal. But no matter — Shavitz continued to work as a sort of brand ambassador for the company, according to the Daily Beast, and otherwise live as simple as it gets, with no hot water, Internet or television.
The rat race, the competition, the career climbing, the city life — if #BurtLivesOn, it can be by reminding us all that none of that is all that essential in the end. Everybody has their own idea of what a good place to be is.