Lil Wayne Just Released What He Calls "Best Work Yet" Through Tidal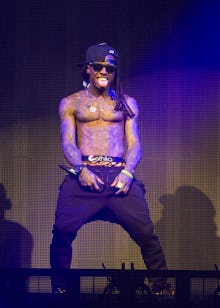 On our country's Independence Day, Lil Wayne made his own declaration. The formerly incarcerated rapper released his long-awaited Free Weezy Album, dubbed FWA, via Tidal. Peppered with shots at his label, Cash Money Records, and its boss, Birdman, the album narrates the battle Wayne has been fighting since December to liberate himself from what he's called exploitative contracts. He's still not free from that label yet, but with FWA he makes a compelling argument for independence. 
Weezy's raps sound hungrier, more experimental and determined than they have in years.
Weezy warned us. He said he would be getting weird with FWA back in February. "I guarantee it's going to be something dope," he told Rolling Stone. "If you don't want a musician being creative, don't get the Free Weezy Album." In April, he tweeted that FWA was shaping up to be his "best work yet." That's a bold statement, considering the number of classics the New Orleans rapper has to his name — and the deteriorating quality of his recent work. FWA is no Dedication or Carter III, but it's a step towards something new and compelling.
Wayne experiments with some disorienting new flows over a racing EDM beat on "I'm That Nigga" and raps over some London trap reminiscent of Hudson Mohawke and Jamie xx on "London Roads." He gets introspective on "My Heart Races On," meditating on death, his struggle to shore up his legacy against the ravages of time and the constant danger of being a black man in America. "Oh Lord, what are we running from?" Weezy croons. "The police 'cause they already killed enough of us / Stay out them streets cause they don't fuck with us, they hunting us."
As RapGenius notes, this introspective flow is something Wayne struggled to do on his last album, I Am Not a Human Being II, released in March 2013. The majority of that album had Weezy reaching (and failing) to find new and interesting ways to talk about cunnilingus and drug experimentation. Wayne is searching for something deeper on FWA, and for the most part succeeds in capturing it.
Glory: The song "Glory," released as a single in June, appears on the album as well. Lil Wayne offered the track up shortly after announcing he would be becoming a co-owner of the Tidal streaming service alongside Jay Z. Rolling Stone notes that, while the single's artwork featured the logo of Young Money — Wayne's imprint label at Cash Money — FWA has none.
The struggle between Wayne and his label came last December when he claimed in a series of tweets: "I want off this label and nothing to do with these people but unfortunately it ain't that easy."
In January, Wayne sued Cash Money for $51 million, claiming it had withheld money from him. Wayne refiled in April, according to the Guardian, and currently Wayne and Cash Money's label boss are not on speaking terms. His last album, Tha Carter V, has been delayed repeatedly since Wayne first hinted at a 2013 release date. It still has no scheduled release date.
The Free Weezy Album paints a compelling portrait of the artist Lil Wayne could become if he managed to leave Cash Money. Freed from any obligations to trot out the same lean pussy puns, he may really find stories that can push his legacy to new heights.
"My job is just to stay vital," Lil Wayne told Rolling Stone back in February. FWA offers the most compelling proof he can that we've seen in years. Stream the album in full on Direct Lyrics or peep it through Tidal here.