11 Films We're Excited About at OutFest 2015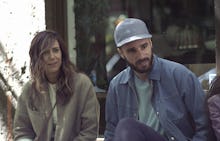 OutFest, the nation's most prominent LGBTQ film festival, opens Thursday in Los Angeles, and we couldn't be more excited. In a year filled with victories like the Supreme Court's marriage decision, it's never been more exciting to look at emerging gay voices and stories. The lineup for this year's festival, running from July 9-19, is no exception.
All of the films' synopses are available online ahead of the event; the following 11 are the ones that stand out. These are the movies we can't wait to see both at the festival and in wider release after their OutFest premieres.
Tig
Stand-up comic Tig Notaro broke out in an unexpected way in 2012: She told a crowd she had cancer. She quickly became a media sensation thanks to her blunt honesty and frankness with her audiences. During her treatment, she powered through, fell in love and became a role model for fans across the country. 
Tig looks at her journey from that instantly famous stage confession. It's the opening night film this year, and it's easy to see why. If there's one thing we need to see, it's Notaro's journey to not just survive, but thrive.
Nasty Baby
Kristen Wiig's streak of intense independent comedies continues from Welcome to Me to Nasty Baby. Costarring director Sebastian Silva and TV on the Radio's Tunde Adebimpe as a gay couple in Brooklyn, New York, the film follows the three as they explore Wiig's character as a surrogate mother. Then, apparently, there's a massive twist.
Each of Wiig's other dark comedies has faced difficulty with audiences, and this one looks no different. (The ad copy on the festival's film guide even brags of the film inspiring walk-outs in audiences.) One of them has to work, though, else she'll keep making them — a frustrating yet admirable choice from a fearless artist. 
If nothing else, perhaps Nasty Baby will be a cult classic. Adebimpe was so good in Rachel Getting Married, so at least Wiig is working with others at her caliber of talent.
Naomi and Ely's No-Kiss List
Former Nickelodeon star Victoria Justice teams up with actor Pierson Fode and the writers behind Nick and Norah's Infinite Playlist in a movie about two New York University freshmen who promise each other they'll never kiss the same boy. Surprise: They meet a boy they both fall for. 
Naomi and Ely's No-Kiss List is a new kind of teen movie in the same vein as cult favorite GBF. It's gay friendly, and it introduces us to a world of young people we never knew growing up.
All About E
This Australian film about a lesbian DJ in the closet about her sexuality and ethnicity echoes loudly in 2015. It's about identity and what it takes to maintain one's created self-image. All About E may not have been filmed with any of these things in mind, but it resonates on a far larger scale now. Of all the stories listed here, this is the one that feels most necessary right now.
Out to Win
Openly gay sports stars like Jason Collins, Michael Sam and Robbie Rogers have slowly opened the final closet in America: the locker room door. The documentary Out to Win seeks to blow that door all the way open. This is set to be the definitive exploration of how LGBTQ people exist in the sports world, focusing on pioneers like Billie Jean King and those modern heroes. 
The progress this documentary chronicles has been amazing to watch in real time. We can only hope Out to Win changes the game forever.
Seed Money
What does it take to conquer the world of gay porn? That's the question Seed Money asks as it explores the story of Chuck Holmes. Holmes' porn studio Falcon dominated the 1980s, at a time when AIDS was a pandemic and the business of sex wasn't an easy one. This documentary looks at not just the studio, but at him, and what it took to get Falcon to the top.
Jenny's Wedding
The excitement for Jenny's Wedding comes partially from the cast. While lead Katherine Heigl has been unappealing in other roles, she was pretty charming in the also-wedding-themed 27 Dresses. Supporting players Tom Wilkinson (Selma), Grace Gummer (Frances Ha) and Linda Emond (The Good Wife) are all terrific actors. 
Somehow, despite all that talent, the film's trailer is a mess. The story — a woman comes out to her family when she decides to marry her partner — is dated. The real issue, however, is the dialogue. It's like giving skilled chefs nothing but butter knives; these actors deserve better. We can only hope there's better material in the film itself.
Drag Becomes Him
Jinkx Monsoon won season five of RuPaul's Drag Race through a combination of talent and competitive drive. Now, the drag artist who calls herself "Seattle's premier Jewish narcoleptic drag queen" is showing her fans another side: Jerick Hoffer, the man who puts on the Jinkx persona. 
Monsoon stands out as one of the great Drag Race contestants thanks to his legitimate acting gifts — hopefully this documentary shows Hoffer to be just as wonderful as the mask he puts on.
Carmin Tropical
Can nostalgia be deadly? That's the question raised in Carmin Tropical, a film about a trans nightclub singer digging through the past. That singer, Mabel, is investigating the murder of her friend when she starts to see too many similarities to her own journey. 
This Mexican film is dipping into tough waters, particularly for audiences that may be afraid to delve too deeply into their pasts as well. But if the risk pays off, Carmin Tropical is bound to be a stunner.
Two 4 One
You can't accuse Two 4 One for being unoriginal. Two exes, a trans man and a woman, try to make a baby together. They accidentally both get pregnant. Worse even, the man, Adam, is set to undergo sex reassignment surgery. This one sounds twisty, but fascinating. In a festival full of wild premises, Two 4 One stands out.
Addicted to Fresno
Previously known as Fresno during its South by Southwest premiere, this lesbian dramedy starring Orange Is the New Black's Natasha Lyonne and Arrested Development's Judy Greer premiered at SXSW in March. It tells the story of a sex addict and her sister stuck in an absurd situation after a hotel night gone wrong. 
Also starring Parks and Recreation's Aubrey Plaza, Fresno has the best cast this side of Jenny's Wedding. Fingers crossed it lives up to the hype.
July 7, 2015, 3:10 p.m.: This story has been updated.