13 Anti-Japan Tweets From the Women's World Cup Final Reveal How Racist Some Americans Are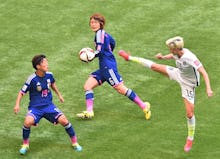 During Sunday night's women's FIFA World Cup final between the United States and Japan, the U.S. scored a decisive 5-2 victory, but "patriotic" chauvinism at its best was thriving off America's success.
During the match, what appear to be mostly U.S. fans began sending out racist and offensive tweets about Japan and the U.S.'s dominance over the Asian nation, both in soccer and in other arenas. Before long, "Pearl Harbor" was trending, while "Hiroshima" and "Nagasaki" became popular too, alluding to the two countries' opposition during World War II, when Japan attacked the U.S. naval base at Pearl Harbor, near Honolulu, and the U.S. later dropped two atomic bombs on Japan.
Here are just a few of the anti-Japanese tweets that filled social media.
Some Japanese people took issue with the trending topics and tweeted out their own dismay with the lack of sportsmanship. "Very sad to see #PearlHarbor #Hiroshima #Nagasaki trending during #WorldCupFinal / discovered that Nadeshiko Japan [the nickname for the Japanese team] during the game, Pearl Harbor, Hiroshima and Nagasaki were trending as Twitter hashtags and nasty feelings," reads the translation of a Japanese tweet.
But American Twitter users also condemned these kinds of tweets.
Americans certainly do not do themselves any favors during these kinds of international events by displaying this kind of intolerance. The atomic bombings of Nagasaki and Hiroshima were horrendous events that traumatized, killed and disfigured countless Japanese people. They are not something to be celebrated during a soccer match.