People Are Tricking Out Their iPhones With Telescopes and Taking Amazing Photos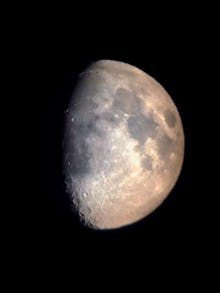 From breathtaking phenomena found in nature to intimate moments between individuals, an iPhone camera is adept at capturing incredible earthly scenes. But it can also document the extraterrestrial — and as a few talented photographers have shown, the results can be spectacular.
Using iPhones attached to a variety of lens attachments or telescopes, crafty photography buffs are bringing the night sky to the masses. You may have seen the moon, the sun, Jupiter and Mars before, but you've never seen them quite like this.
Take these two shots — the moon on the left, the sun on the right — from Andrew Symes, an avid astrophotographer who began using an iPhone to snap photos of the moon in late 2011:
He doesn't shoot all of his otherworldly photography with an iPhone, but he has made it a regular part of his repertoire, filing it into a Flickr album called "iPhone Astrophotography."
"The best part is being able to share the magic of what I see through the telescope with so many people," Symes told Mic in an email. "Astronomy can be a very solitary hobby, and it was only once I was able to take and share images with family and friends that they began to understand why I would spend so much time alone in the cold and dark with a telescope. And now, with social media, I'm able to share these images with thousands of people in ways I could never have predicted."
The process for capturing the ethereal scenes: As Symes noted in a 2013 blog post, simply putting an iPhone in front of a telescope isn't likely to produce anything too extraordinary. But with a few extra tools, even new astrophotographers can get some good shots. 
"I attach my iPhone adapter to the eyepiece I want to use," he said. "I then go outside and use a different eyepiece to center and focus the object I want to photograph. Once I'm happy that I've properly centered the object, I insert my eyepiece/adapter/phone combo into the telescope, refocus, adjust the exposure and start taking photos and/or videos." 
Other enthusiasts, like Flickr user John Kittelsrud, have fashioned mounting hardware to attach the telescopic lens to their iPhones. Like Symes and Kittelsrud, many iPhone astrophotography fans post their work to Flickr:
The photographers use a range of hardware to help them capture their images, like the Skywatcher 114/500, an "ideal telescope for beginners," and the Meade ETX-125 telescope. While some users employ the latest iPhone to perfect their shots, when attached to a telescope, even the older iPhone models, like the 4S, help produce amazing photographs. 
It's difficult at times to believe they came from an iPhone's lens: 
Symes also uses a variety of photo editing programs to polish his work, like Photoshop and Gimp, an open-source photo manipulation tool, as well as Registax, which allows him to turn videos into single, high-quality images; other astrophotographers use similar tools, and some use their phone's photo editing software.
They capture a range of subjects: The moon is popular, as is the sun and its spots. Other notable planetary bodies on display include Jupiter, Mars and Venus, as well as closeups of their surfaces.
Symes has also experimented with video: 
"If you have experience using a telescope, it's an easy hobby to get started with," he said. "It's possible to get very nice images of the moon with only a little bit of effort and then move up to planets and other objects with practice. Like any hobby, it will require patience and a fair bit of trial and error, but I think it's highly worth it."
Other examples of iPhone astrophotography can be found on Instagram, where devotees tag their work #iphonetelescope:
While we've seen plenty of space photography before — including some badass shots from astronauts themselves — iPhone astrophotography is a reminder that we can do the same thing here on Earth with an smartphone and a standard telescope. Go forth and prosper, indeed.