Bernie Sanders Is Officially Making Hillary Clinton's Campaign Nervous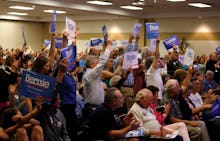 Hillary Clinton's campaign wants you to know they are taking the threat from Sen. Bernie Sanders (I-Vt.) very seriously. On Monday, Clinton campaign officials made it clear that Sanders' insurgent candidacy is on their radar, following weeks of the independent senator drawing huge crowds and climbing in the polls in two crucial early states.
The Clinton campaign is right to worry. Recent polls in Iowa and New Hampshire have placed Sanders within striking distance of Clinton. Over the weekend, Sanders drew the biggest crowd for any candidate in Iowa so far this cycle, attracting more than 2,500 to a rally in Council Bluffs. Earlier in the week, his campaign reported raising $15 million from 250,000 donations in the first two months of his campaign — 99% of which were contributions of $250 or less.
In other words, the Sanders surge is undeniable. Rather than deny this fact, the Clinton campaign has chosen to acknowledge the closing gap between the candidates, revealing two imperatives for Clinton as she seeks to fend off her liberal challenger: avoiding the appearance of taking the nomination for granted, and managing performance expectations in the early primary and caucus states, where a Sanders victory could throw her quest for the nomination off track.
What the Clinton camp is saying: Appearing on MSNBC's Morning Joe on Monday, Clinton communications director Jennifer Palmieri offered up a clear indication that the campaign is very much aware of the threat posed by Sanders. MSNBC's Willie Geist asked Palmieri if the Clinton campaign was worried about Sanders, and Palmieri indicated that they certainly are.
"We're worried about him, sure. He's a force," Palmieri said. "He'll be a serious force for the campaign and I don't think that will diminish ... We've said from the start that it's going to be really competitive."
"Of course we're worried about him. This is an election," she continued when pressed by Geist. "He is doing well. And we'll have to, you know, we'll have to make our case. We knew this was going to happen ... So, yeah, it's going to be a slog."
Later Monday, the New York Times reported on the Clinton campaign's apparently sudden realization that Sanders could defeat her in Iowa, the first contest in the Democratic nomination process:
"I think we underestimated that Sanders would quickly attract so many Democrats in Iowa who weren't likely to support Hillary," said one Clinton adviser, who like several others spoke on the condition of anonymity to candidly share views about the race. "It's too early to change strategy because no one knows if Sanders will be able to hold on to these voters in the months ahead. We're working hard to win them over, but yeah, it's a real competition there."
The Times also quotes Clinton campaign manager Robby Mook, who says, "We take nothing for granted in Iowa because the caucuses are always such a tough proving ground. But Hillary Clinton's regular travel to the state and the organization we have established on the ground show how committed we are to prevailing there."
A fine line: Why would Clinton's campaign downplay its candidate's chances of winning Iowa and acknowledge the viability of Sanders' candidacy? Because doing so is smart politics — and one way to make sure her supporters stay engaged.
Clinton is seeking to avoid the aura of inevitability that surrounded her disastrous 2008 run, in which her campaign embraced her role as the all-but-certain nominee and failed to do the work necessary to actually win the nomination. This apparent certainty was off-putting for voters, particularly in Iowa, where Democratic caucus-goers relish the opportunity to upend conventional wisdom. If Clinton's supporters believed that she had the nomination wrapped up, why would they devote time or energy to help her get elected?
That was one of the central dynamics responsible for her defeat by Barack Obama in the Hawkeye State, which set in motion her eventual defeat elsewhere. Members of her team this time around — many of whom worked on Obama's campaign — seems determined to avoid the same fate. That's why Clinton has opted for smaller roundtable discussions with voters, eschewing the kind of big rallies that have been the hallmark of Sanders' campaign thus far. She wants to connect with voters on a personal level and needs to be seen as working hard for every vote, so as to avoid the appearance of inevitability.
Additionally, by setting low expectations for Clinton's Iowa performance this early in the process, the campaign is hoping to dampen the effects of a close result come February. If Sanders is expected to come within 10 points of Clinton in the weeks leading up to the caucuses, and he comes in 12 points behind, this would be seen as a loss for Sanders and victory for Clinton in the eyes of the press. Managing expectations now makes it much easier to manage the narrative later.
So, the Clinton campaign is clearly worried about Sanders, and they should be. He is a force to be reckoned with. But her team is also shrewd enough to realize that publicly stating (and perhaps overstating) their nervousness over his candidacy serves their political interests as well.