The US Women's World Cup Shattered Viewership Records for Any World Cup in the U.S.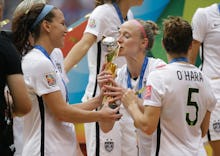 When World Cup hero Carli Lloyd led the American women's soccer team to victory over Japan Sunday evening, she didn't just break sports records, she helped break TV records too.
On the big night, at least 17 million people tuned in to watch the Women's World Cup match on television at 7:00 p.m. ET. Those numbers rose to an average of 25.4 million and peaked at 30.9 million between 8:30 and 8:45 p.m., once the United States victory became evident. According to Nielsen, it was the most-watched soccer match in U.S. history, for women or men.
"It is the highest metered market rating ever for a soccer game in the U.S. on a single network," an executive from Fox, which broadcast the game, told NPR. 
For comparison, in 2014 the German men's team's 1-0 World Cup final victory over Argentina took in a combined U.S. ratings of 27,314,274 total views. Meanwhile, the 2014 men's U.S. vs. Portugal game had an average of 18.22 million viewers. 
The women's numbers didn't just smash records for soccer, but also blew past several other recent marquee sporting events. The women's soccer ratings quadrupled those of the NHL 2015 Stanley Cup, which earned an average of 5.551 million viewers, and the triumph also demolished the 2015 NBA finals, which received a comparatively measly 13.9 million viewer average for their six-game series. The women's numbers also topped the 23.5 million viewers who tuned in for game seven of the 2014 World Series, a remarkable achievement given Americans' historic preference for baseball.
Online, a number of players took to Twitter to receive congratulations, and even a White House invitation from President Barack Obama himself. 
The impressive figures contrast sharply with pay discrepancies between the men's and women's teams that have been widely reported in the aftermath of the Sunday night victory. The women's team, which has now stacked up three World Cups, earned roughly four times less than their male counterparts, who have not won a World Cup tournament in their entire existence.