The Hot New Fashion "Trend" Is All About Gender — In the Best Way Possible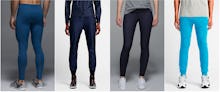 These four photos represent the future of fashion.
Not because they're pants made with high-tech innovation. Not because they represent the fitness-minded "athleisure" trend. But because you really can't tell which ones are for men, and which are for women.
According to a new report, the biggest thing in fashion is abandoning "men's clothing" and "women's clothing" altogether. Gender-free is the future.
It's something that's been in the air for months, especially on runways. But market research firm NDP Group has released a report, aimed at regular stores and brands, declaring that the trend for "gender neutral" clothing isn't one to be ignored. The report, entitled "Blurred Lines: How Retail is Becoming Less Gendered, and Why You Should Care," cites data confirming that young shoppers increasingly see gender as a spectrum and are less attached to male and female distinctions. 
High-end fashion designers have also been blurring the gender lines, putting men in "women's clothes" and vice versa as well as creating clothes that abandon gender signals altogether. The rise of trans models is also helping push that gender rethinking along.
"There's been this phenomenon in high fashion for several years now — particularly on the runways," NPD Account Manager Joe Hasek states in the report. "But we've yet to see a meaningful trickle-down into any of the typical apparel channels."
That means the J.Crews, Gaps and Zaras of the world, not to mention Kohl's and Sears. 
A few stores have made overtures to gender-free shopping. As Quartz noted, British department store Selfridges experimented with a gender-free pop-up store called Agender, while NDP rightly reports that American Apparel has been doing this for years (Hello, Unisex Tri-Blend Short Sleeve V-Necks). Target recently announced it was jettisoning gender labels for non-clothing categories like toys and bedding, and certain kids clothing brands have been making a point to avoid gender distinctions.
Now, the companies making real headway are athletic brands like Lululemon and Nike, as the photos above illustrate. The rise in workout clothing is seen as aiding the gender-blurring.
"A hoodie is a hoodie, and a beanie is a beanie, and we often see men and women sporting the same classic fleeces from these brands," notes NDP's report. Leggings and sneakers are some of the best gender-neutral clothing options we have.
But as NDP's new report unequivocally declares, more will be coming. That could mean simply not designating labels that divide "men's" and "women's" options in stores, or it could mean designing clothes that eliminate certain gendered style cues. It could mean leaning into designs that have long been gender-neutral, like Converse, Birkenstocks and Sperry boat shoes.
Every store and brand will have its own interpretation of gender-free. The point is that it's on its way, and not just on runways. For once, the biggest new thing in fashion might just be awesome for everyone.
h/t Quartz