These Stunning Temporary Tattoos Are the Trend We've Been Waiting For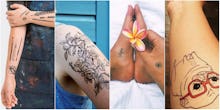 Can you tell which of these tattoos is temporary?
You can buy all the dope sneakers or of-the-moment jeans you want. But let's be real: The trendiest style statement to make today is a tattoo, and committing to a trend like that isn't for the faint of heart.
Which is why it makes perfect sense — as in, so perfect we don't know why we didn't make them ourselves — that temporary tattoos are making a "comeback," with more grown-up options and higher quality than ever. Even Beyoncé is getting in on the game.
No more cartoons and butterflies: When it comes to adult designs, a New York Times feature this week highlights the oh-so-real-looking options from companies like Tattly, a four-year-old company based in Brooklyn, New York (of course). 
Founded by Swiss designer Tina Roth Eisenberg, Tattly specializes in fake tats that are tasteful, edgy and cool, as opposed to the "butterflies and ugly smiley faces" we had as kids. "Granted, I'm probably a little bit snobby, but they were an insult to my Swiss aesthetics," Roth Eisenberg told the New York Times. Tattly's products, which look remarkably like the real thing, have been embraced by individuals as well as companies like SoulCycle and NPR.
And as far as improving quality, startup inkbox has introduced on-trend temporary tats that last up to two weeks and avoid the fake, peeling look. "It was impossible to find tattoos that looked real but weren't permanent," cofounder Braden Handley said in a press release, quoted by Mashable. The company has raised over $50,000 on Kickstarter, exceeding the $15,752 goal. 
If they're good enough for Beyoncé... Tats from companies like Tattly and inkbox join the fake tattoo trend alongside flash tattoos, the shiny foil stick-ons that started popping up last summer and are still ubiquitous at music festivals. The latest sign they're here to stay: Beyoncé unveiled her own line of flash tats this week that includes "Beyhive-centric designs," according to CR Fashion Book.
All of the new products can be added to the countless options populating Etsy (over 15,000!). 
High-quality temporary tattoos couldn't come at a moment too soon, given how popular real ink is. A 2012 Harris Poll found 21% of adults has at least one tattoo, while a 2010 Pew Research Center report put the percentage at 40% for millennials specifically. Every data point shows tattoos on the rise, particularly for liberal Americans.
That said, not everyone wants to take the permanent plunge, especially since there are so many fleeting ink trends to try. 
Temporary tattoos that actually look like the real thing — and stay on longer than an hour — are the perfect complement to the rising trend for tattoos, which doesn't show any sign of letting up. 
We've already reached the moment in which fashion magazines and bloggers recommend tattoo trends alongside clothes, shoes and bags. Now we have the chance to try as many as possible, risk-free.