5 Inequalities Female Athletes Still Face, Even if They're World Champs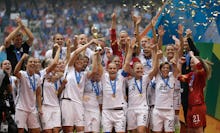 On Sunday night, thousands of soccer fans piled into Vancouver's BC Place Stadium to watch in awe as the United States Women's National Team triumphed over their Japanese rivals during the final game of the Women's World Cup. In fact, the event was the most-watched soccer game in United States history, the New York Times reported, with an audience of 25.4 million viewers.
Yet despite their accomplishment and clear skill, these illustrious players still faced abundant inequality based on their gender alone. Unfortunately, they're hardly the only players who have or will face this treatment. Here are five inequalities female athletes still face, which we must put to bed once and for all.
1. They still face the wage gap.
The U.S. Women's National Team may have won the cup, but the 2015 competitors across all teams were paid 40 times less than their male counterparts in 2014 (a cumulative $15 million for the women's teams, and $576 million for the men's teams, according to Politico). As pointed out Monday, FIFA will award the U.S. women's soccer team with a $2 million prize for their World Cup win, even though the final 16 men's national teams who played in the 2014 World Cup took home about $10 million on average. Germany, the winning team in the men's tournament, earned $35 million.  
Team earnings are based on revenue — the men's World Cup generated $4.8 billion, half of which came from global broadcasting rights; ESPN sold $529 million in ads for that tournament. Though FIFA called the women's tournament in 2011 a "financial success," Fox, for example, only sold $17 million in advertisements for this year's World Cup, a big loss, considering the final game ended up being the most watched soccer match in U.S. history.
But this is unfortunately no surprise, given the wage gap that persists in our nation at large: American women earn an average of 78 cents for every dollar a full-time male worker earns, according to the U.S. Census Bureau, and this gap widens for women of color.
2. They were expected to play under different conditions.
For the first time ever, FIFA decided that the Women's World Cup would be played on artificial turf. While it may seem like a minor point, players argued that not only was the experience of playing on artificial turf inadequate, but that they experienced physical injuries like burns. It's why a number of players filed suit, claiming that the decision was born from gender discrimination, since players for the men's tournament would not be forced to play on artificial turf.
"I am hopeful that the players' willingness to contest the unequal playing fields — and the tremendous public support we received during the effort — marks the start of even greater activism to ensure fair treatment when it comes to women's sports," star U.S. player Abby Wambach, who backed the suit, said of the ordeal.
3. They're still seen as primarily valuable as caregivers. 
A since-deleted tweet sent from the England's Football Association's account, Time reported, read "Our #Lionesses go back to being mothers, partners and daughters today, but they have taken on another title — heroes."
Considering the popularity of England's women's team, perhaps these athletes should have been celebrated for their skills. Instead, thanks to ever-pervasive gender stereotypes, a major organization still felt the need to remind their fans of the team members' supposed real place — in their homes, with their families.
4. They've been sexualized and objectified.
Team Norway's Catherine Dekkerhus may have made fun of the fact that she's known as one of Norway's "hottest soccer players" in a recent viral parody video, but the type of objectification she references has been an all too real experience for many female athletes.
And she's hardly the only one: Websites like The Athletic Build, Men's Fitness, The Richest and others have created entire lists devoted to ranking the comparative sexiness of female athletes overall. Media coverage of female athletes often revolves around their bodies over their skills. The public still fails to see female athletes as just that — athletes — rather than sexualized objects to be ogled. 
5. They have dealt with inequitable media representation. 
"Forty percent of all sports participants are female, yet women's sports receive only 4% of all sport media coverage," according to the Tucker Center for Research on Girls and Women in Sport. For example, one study recently found that ESPN's SportsCenter and Fox Sports 1's Fox Sports Live devoted less than 1% of on-air time to women's sports last year, excluding slight gains during the 2014 Olympics. And sports journalism doesn't just fail to cover women, but to integrate them into the industry itself: Last year, women composed only 10% of sports journalists, according to a recent Women's Media Center report.
Yet Fox's coverage of this year's Women's World Cup — the most watched soccer game ever in the United States — proved that covering women's sports paid off.
Hopefully, this treatment will be the final nail in the coffin of sexist sports coverage. But until then, we can bask in the glory of Team USA's recent win — and continue to encourage them until their next.