Bill Cosby Admitted to Drugging Woman with Quaaludes in a 2005 Deposition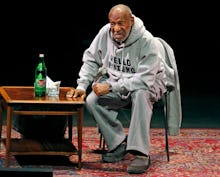 New court documents obtained by the Associated Press reveal Bill Cosby admitted in a 2005 deposition to both obtaining Quaaludes for the purposes of giving them to young women and to actually drugging at least one woman.
In the deposition, taken during a suit brought by a Temple University employee, Cosby reportedly admits to obtaining the drugs "with the intent of giving them to young women he wanted to have sex with," according to the AP report. "He testified he gave her three half-pills of Benadryl."
This news is only the latest turn in a story that grows increasingly grim. Cosby's responses have ranged from silence to chalking up the scores of accusations from women to being "innuendo." Most recently, he's started working to discredit all accusers by hiring a public relations team. But whenever Cosby's been directly asked about the allegations and accusations, his response has been the same:
The Cosby story has been quiet for a while, with dozens of allegations yet blocked by the statute of limitations. Cosby remains uncharged in any criminal court as a result. The case in question from which this deposition originates was settled out of court.
Judging by his behavior so far, it's unlikely Cosby will be responding to these allegations. In the court of public opinion, however, it's just another damning piece of evidence revealing a truly disgusting man.