Watch a Man Run Through Moving Traffic to Rip a Confederate Flag Off a Truck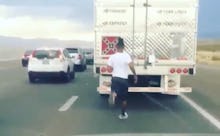 Some people aren't waiting for the South Carolina legislature to act — they're taking Confederate flag removal into their own hands. 
A video posted to Instagram showing a man ripping the stars and bars off the back of a moving truck went viral Monday after the unnamed man chased down the truck in slow moving traffic. With the addition of some well-placed James Brown, the video, uploaded by user belladreamhair, generated more than 6,000 likes as of Tuesday morning.
The footage was also uploaded to Tumblr, garnering more than 150,000 notes over the same time period. 
It's not the first case of civilians taking flag removal into their own hands. In June, activist Bree Newsome scaled the flagpole hoisting the Confederate battle flag on the South Carolina capital groups and briefly removed it. The flag was ultimately restored, and Newsome was arrested when she came down.
(There was also that time in 1865 — the first time the flag came down.)
Lawmakers, however, may not be far behind. On Monday, the South Carolina State Senate voted to remove the flag from the state Capitol grounds. The revived push against the flag came after the June 17 Charleston massacre, which killed nine black South Carolina residents including one of the chamber's own, state Sen. Clementa Pinckney. The Statehouse is set to take up the issue Tuesday when anti-flag forces are expected to be triumphant.