This Model Just Reminded Us Why a Lack of Diversity Really Does Matter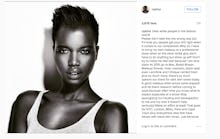 Diversity isn't just a nice concept. It has an actual purpose, as one model is reminding us all.
Nykhor Paul, a fashion model from South Sudan, took to Instagram on Monday to call out makeup artists for being ill-prepared to work with dark-skinned models.
Citing a recent gig where she felt singled-out for having dark skin, Paul said that in 2015, with more beauty lines carrying shades for women of color, there's little excuse for professional makeup artists to not carry the right colors.
"Why do I have to bring my own makeup to a professional show when all the other white girls don't have to do anything but show up wtf!" she writes in the post. "Stop apologizing it's insulting and disrespectful to me and my race it doesn't help, seriously! Make an effort at least!"
Her note in full reads:
Dear white people in the fashion world! Please don't take this the wrong way but it's time you people get your shit right when it comes to our complexion!
A cycle of exclusion: The fashion industry has long been guilty of excluding women of color, most obviously when casting models. But calling for diversity, as Paul points out, isn't just about token inclusion; it's about actually adjusting our expectations of what "beauty" is and making practical, real-world changes that expand that definition.
That includes makeup. Fewer makeup artists working with darker-skinned models means fewer experts know how to work with a wider range of skin tones, which creates a vicious cycle of exclusion. As one makeup artist commented on Paul's photo:
I'm a make up artist and I've recently started to officially teach fashion..for all skin tones. In the past 12years of freelancing I have been constantly been asked variants of advice of how to do basics ie foundation for black and asian skintones that people seem to find "complex" and that also comes from not just white ppl. It still makes me annoyed how some MUA are in the industry with little experience and it definitely shows when a beautiful glowing nubian/asian model sits in the chair ..then when "the look is complete" the models walks away still beautiful but grey or ashey.
But it's also clear that it's not just models. 
The power of makeup to set beauty standards: From the likes and comments, it's clear that Paul's sentiment struck a chord, with followers chiming in with their own frustrations. "Thank you so much for having the courage to work in a world that is so against the idea of beauty in different shades and being unapologetically you. It means the world to girls like me everywhere," wrote one follower. 
Mainstream makeup lines have historically catered to Caucasian skin tones. Though there are more options now, companies still lag in developing foundations that cater to darker skin tones, according to a 2014 article from the New York Times. A brand like Lancôme may offer 30 shades of its foundation, but only five of them will be for women of color, Vic Casale, a founding partner of M.A.C. Cosmetics and current chief of innovation for Cover FX, told the Times. 
When brands don't address women of color as mainstream consumers, that sends a negative message that customers internalize, as the comments on Paul's post make clear. 
But change, Paul points out, can start with the professional makeup artists and modeling agencies, by actually valuing diversity's power to change day-to-day habits. When beauty is defined too narrowly it only ensures a continued practice of the marginalization of people of color, on runways and off.
The world knows beauty comes in all forms. The modeling industry should catch up, and take the rest of the makeup industry with it.
h/t BuzzFeed