Former Florida State Quarterback Who Punched a Woman in the Face Charged With Battery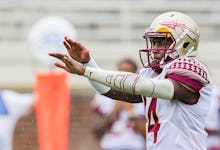 A Florida state prosecutor has charged former Florida State University freshman quarterback De'Andre Johnson with misdemeanor battery after video emerged showing him punching a woman in the face.
The altercation occurred at Yiannis, a Tallahassee bar, at around 11:30 p.m. July 24. In the video, Johnson is seen pushing his way toward the front of the bar, before another patron protests. When things escalate, the woman raises her knee and punches Johnson before the quarterback retaliates with a strong blow. The punch left the woman with a black eye, facial bruising and a cut around the bridge of her nose, the Tallahassee Democrat reported. 
"She's a good witness and she wants to testify," Florida state attorney William Meggs told the Tallahassee Democrat, referring to the woman who had been punched. "She's a little nervous about it." 
Though Johnson has retained prominent Florida attorney Jose Baez to defend him, the star legal counsel may not be able to save Johnson's football career. On Monday night, Florida State football coach Jimbo Fisher cut Johnson from the team. Fisher's statement, read in part:
"Florida State head football coach Jimbo Fisher announced Monday evening that freshman De'Andre Johnson has been dismissed from the football team effective immediately. Johnson was indefinitely suspended on June 25 following initial reports of an incident that occurred off campus and resulted in a criminal charge." 
Calls to Baez's office were redirected to his publicist, Charles Jones. "We're meeting with the family," Jones told Mic. "We're have more discussion with the attorneys to discuss what his options are." Jones said more information would likely emerge Tuesday afternoon. 
In a statement to Mic, Baez wrote:
"While it is clear from the video that De'Andre Johnson was not the initial aggressor, his family wants to take the lead in helping him learn and grow from this experience. He is currently participating in community service, and faith-based programs focused on battered women, substance abuse, and the empowerment of  children. De'Andre is extremely embarrassed by this situation and would like to express his heartfelt apologies to everyone, including those who were directly affected, Coach Fisher and his team mates, the entire Florida State University community, as well as his family and friends."
A recurring problem in the world of sports: For Fisher, the current imbroglio likely brings back déjà vu from the case of Jamies Winston. In 2012, Winston, an FSU quarterback at the time, was accused of raping another student, an allegation he has consistently denied. More broadly, Winston's behavior, which included shoplifting and irresponsible use of BB guns, were a consistent headache for Fisher. 
Florida State's troubles reflect a larger national problem of misogyny in American sports. Jonathan Taylor, a University of Alabama defensive lineman, was also dismissed from his team in May after he was charged with domestic violence and third-degree assault in a case that becomes more complicated by the day. In the NFL, former Baltimore Ravens star running back Ray Rice was suspended indefinitely for violently attacking his then-fiancée Janay Palmer in February 2014 in a hotel elevator.
Meanwhile, in 2007, NBA player Ron Artest, (who has since legally changed his name to Metta World Peace) pleaded no contest to domestic violence charges after an argument with his wife. Domestic violence and sports have become so casually intertwined that nobody from the Cleveland Cavaliers thought there was a problem with a promotional commercial showing a man violently throwing a woman onto the floor for being a "Bulls fan."
While the full facts of the Florida State case are still to emerge, the camera never lies, and Johnson has a lot of explaining to do.