One of Bill Cosby's Most Visible Defenders, Jill Scott, Admits She Was Wrong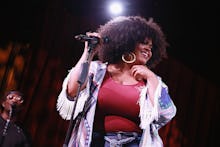 Since December, soul singer Jill Scott has been one of the most visible allies and defenders of Bill Cosby against the dozens of rape allegations that have piled up. But now that the Associated Press has acquired a deposition that recorded Cosby admitting to portions of his sexual deviancy, Jill Scott changed her tune.
Scott said she needed proof. She said so back in December, when she tweeted: "sides with Mr. Cosby? No. I side with substantiated proof when media/society is attempting to destroy a magnificent Legacy." That proof is here.
The 2005 deposition the AP obtained shows Cosby admitting to obtaining quaaludes "with the intent of giving them to young women he wanted to have sex with." He also admitted to giving drugs to at least one woman, a former Temple University employee, with whom he settled in 2006 for an undisclosed sum.
Scott took some time to explain why it took her so long to come around.
Though she is "completely disgusted" by this new information, she also took a moment to say she's not sorry that she initially stood up for Cosby. She still called him a "mentor" and said she's more sorry that the allegations are true.
"I'm respecting a man who has done more for the image of Brown people that almost anyone EVER. From Fat Albert to the Huxtables," Scott tweeted in defense of Cosby last fall. Those achievements still stand, in that they cannot be erased, but no amount of Hollywood trailblazing could make up for the pain Cosby has caused the 25 to 48 women accusing him of sexual assault. 
Our culture deserves better icons than Cosby. Scott has done a tremendous amount to celebrate the identities and vulnerability of black women in her art. She is icon worth celebrating.