The Actors Who Appear in the Most Top-Rated Movies — in One Surprising Chart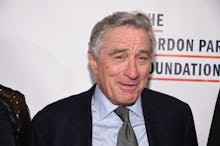 Actor John Cazale's career has one amazing asterisk next to it: He appeared in only five films in his career, but each of those five was nominated for best picture at the Oscars. That's a streak unlikely to be broken any time soon — perhaps ever. But he's hardly the only actor with a nose for good projects.
As first appeared on TrendsandGraphs.com, a chart shows which actors and actresses have appeared in the most movies on IMDb's Top 250. Without looking, one might expect to see names like Meryl Streep, Jennifer Lawrence and Tom Cruise included. They're popular actors, after all — one would expect them to be in all the most popular projects too.
If that's the expectation, this chart is one hell of a subversion.
There are a couple of bold-faced names here, specifically Robert De Niro and multi-hyphenated talent Alfred Hitchcock. The other seven who appeared in at least eight of the 250 films, however, are much less renowned. Who are these prolific performers who found themselves on this list?
John Ratzenberger is known best to those who watched Cheers as Cliff Clavin. However, his presence on this list is thanks to his post-Cheers work as a voice actor. Seven of his 10 films are Pixar movies, most noticeably voicing Hamm the piggy bank in the Toy Story series. Most recently, he appeared in the studio's latest film Inside Out.
Ratzenberger isn't the only voice actor in this crop, either. Sherry Lynn and Mickie McGowan are both prolific vocalists behind the mic, though not usually in front of the camera. Lynn in particular has developed a big career voicing English dubs of anime series. Like Ratzenberger, they've both worked extensively with Pixar.
But the primary category on this list is the background actor, or extra. Bess Flowers, Arthur Tovey, Joseph Oliveira and William H. O'Brien all have tons of credits to their names despite not being independent stars. It's all thanks to their tireless work ethic — how else to explain Tovey's list of over 300 credits? Or O'Brien's list of nearly 500?
These seven prove that having a lasting impact in Hollywood isn't always about having your name on the movie marquee. Sometimes, it's the smallest parts that make for the biggest career.