This Zany Swede Makes $7M a Year on YouTube — Here Are the Secrets to PewDiePie's Success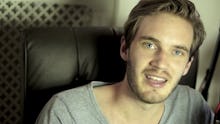 Felix Kjellberg, the Swedish YouTube personality known as PewDiePie, pulled in more than $7 million in 2014 from live-streaming video games, as reported by BBC. People are scratching their heads: How is this zany 25-year-old earning millions for making adolescent jokes while doing nothing but screaming into a microphone?
The typical PewDiePie video puts Kjellberg's face in the lower left corner as he plays video games and rants about what's happening onscreen. He cracks tasteless jokes (and has apologized for making light of rape), does voices, wears costumes, even beatboxes — he's like a Swedish Jim Carrey of gaming. His YouTube channel has over 37 million followers.
PewDiePie is the public face of video game vlogging, and video games have taken over YouTube. Last year, Minecraft was the second-most searched term on the video platform, second only to "music." No. 9 on the list? PewDiePie, who gets searched for more often than Eminem, Rihanna and Jay Z.
To understand why PewDiePie's presence is worth so much, you need to understand three things: the YouTube economy, live-streaming and the man himself.
There are three pillars of personality-based live-streaming: porn, games and lifestyle. PewDiePie's all about the latter two. He's a good-looking guy, but his silliness — he's a 25-year-old man emoting as a 12-year-old boy — is the key to his mass appeal.
People love watching gamers. If you're a gamer who likes Hearthstone, an online card strategy game with 20 million players worldwide, you can learn a lot from watching star players like Trump or Kripparrian narrating their games, going through the decision-making processes out loud and taking questions as they play. You can bet if Bobby Fischer were alive today and live-streaming his chess games, he'd pull in serious traffic.
The Oprah effect: PewDiePie isn't a great gaming strategist, and the games he plays — from smash hits like Minecraft to games he popularized like creepypasta game Slender — aren't often the type that the esports crowd loves. But because PewDiePie's style is whimsical and kitschy, he has a knack for discovering and popularizing atypical games that otherwise wouldn't be taken seriously. His endorsement can introduce thousands, even millions, of players to games they never would have found or tried otherwise.
You can bet if Bobby Fischer were live-streaming his chess games today, he'd pull in serious traffic.
PewDiePie is likable and funny, if he doesn't annoy the shit out of you. He's more upbeat than a lot of other gaming vloggers. He's zany and outrageous, with an unafraid-to-be-himself performance bravado.
And he's one of the few popular gamers who doesn't behave like an expert. Most gaming channels fall into two camps: They're either stuck in an old-school era of grumpy, male-nerd gaming vloggers, or they're made for ultra-competitive players and esports fans. PewDiePie plays games anyone can get into and approaches them with the attitude of a hapless beginner.
YouTube is built for users like PewDiePie: Gaming channels are predestined for YouTube success by their nature. It's not just that they have good enough content to appeal to fans — they have the sticking power to appeal to YouTube's promotion and curation algorithms.
YouTube wants people to watch for long periods of time. It will promote channels that help people come to the site and stay there. Where other viral sensations might bring in views and break news, short comedy videos and viral schticks last for only a few minutes and are often embedded on blogs, news sites and social media.
Gaming live-streamers are like daytime television. Clips are much longer and can run endlessly in the background while doing other activities. Comedy, viral videos, rants and other brief uploads are snack-sized, while game streamers keep people in YouTube's cafeteria all day long. PewDiePie's videos can last anywhere from 10 to 50 minutes long, and even his compilations, skits and other materials seem to drag on eternally. He's a one-man TV channel.
He has international appeal: PewDiePie is a Swedish man who speaks English and broadcasts from Italy, where he's featured automatically as a local, targeted channel. He's factory-made to hit as many check boxes as needed to pull in subscribers and be promoted by YouTube's algorithms. As Matthew Patrick of the Game Theorists says about PewDiePie's fame:
"YouTube is made up of the same things as the latest Xbox release. And whether it's misleading thumbnails or conquering retention-based algorithms, YouTube, in essence, is a big game. A strategy game that comes with its own rules, tricks and shortcuts. And those people who play by the rules — or, more importantly, know the best way to use those rules to their advantage — those are the ones who end up on top of the leaderboard."
By the logic that YouTube is one big game, PewDiePie is the greatest player in the world.
So what's next? PewDiePie has only been growing more popular, with longer and longer videos and more hours spent on live-streaming. He's like the Truman Show of gaming shenanigans. But his comedy, compilations and experiments copying other popular YouTube forms have begun to pull in more views than his pure gaming streams.
And in the style of other YouTube stars looking to transition into their next act, PewDiePie is becoming an author, with a book of aphorisms called This Book Loves You. These aphorisms, basically illustrated, include "Don't be a bitch" and "Things will always get worse."
What PewDiePie thinks of his own success: In a video released Tuesday, Kjellberg broke character to respond to the media sensation around his success. He's never wanted to talk about money, he said, because he doesn't think it's important. He also addressed the commenters who say he shouldn't be earning so much, that he doesn't deserve to be famous because he's just a guy who screams at his computer. PewDiePie insisted he does, in fact, work incredibly hard.
"What people don't think about until it's in their face is that I have 9 billion views," PewDiePie said in the video. "That translates to something. ... It seems like the whole world cares more about how much money I make than I do myself."