South Carolina House Votes to Remove Confederate Flag From Capitol Grounds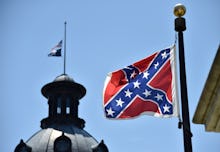 After roughly 13 hours of debate, the South Carolina House of Representatives voted 94-20 early Thursday morning in favor of removing the Confederate battle flag that flies above the Statehouse grounds in Columbia.
The bill will now move to the desk of Republican Gov. Nikki Haley, who championed the flag's removal in recent weeks and promised to swiftly sign the legislation.
The debate went on much longer that expected as House members considered dozens of amendments, all of which were defeated of tabled, before the debate moved onto a larger discussion of heritage and history from both sides of the aisle. It wasn't until the early hours of Thursday morning that the House members actually voted on the bill.
"South Carolina can remove the stain from our lives," Rep. Joe Neal, a 64-year-old black Democrat, said, according to NBC News. "I never thought in my lifetime I would see this."
Senate Bill 897 passed the Senate 37-3 on Monday, and on Tuesday the House voted 93-18 to circumvent committee, sending it straight to the floor for debate. 
After the vote, Haley praised the House's effort, writing on Facebook:
"Today, as the Senate did before them, the House of Representatives has served the State of South Carolina and her people with great dignity. I'm grateful for their service and their compassion. It is a new day in South Carolina, a day we can all be proud of, a day that truly brings us all together as we continue to heal, as one people and one state."
The flag controversy was reignited last month after a white supremacist gunman massacred nine people inside a historically black church in Charleston, South Carolina. The shooter, who allegedly wanted to start a "race war," took a number of provocative photos with the Confederate flag and other historically racist symbols. The incident provoked an outpouring of grief across the United States.
South Carolina state law required a two-thirds majority in both houses of the legislature before the flag could be removed. Polling by the Charleston Post and Courier previously predicted a victory by anti-flag forces in both the House and the Senate. The vote also undoes a 2000 compromise between the two sides that saw the flag taken down from the Statehouse dome but kept within the larger capital grounds. 
Barring any unexpected developments, the flag will soon take up residence at its new home in the state's Confederate Relic Room and Military Museum.