Tom Morello Has Created a New Label Dedicated to Bringing Protest Music Back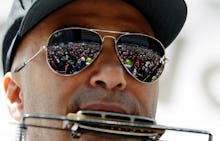 Few understand the value of musical protest better than Tom Morello. With his unorthodox guitar playing style, he added the sonic urgency to help propel Rage Against the Machine's anthems on political corruption and American imperialism to the forefront of those resistance movements. More recently, as the mastermind behind the political folk act The Nightwatchman, Morello has created real political disruption writing anthems for Ferguson and performing at Occupy Wall Street, union strikes in Los Angeles and numerous smaller protests. He understands the power music can have in pushing protest movements to new heights.
"There's something deep in the reptilian brain of humans that responds to a combination rhythm, rhyme and sonic power that really feels like the truth," Morello told Mic. "If you get those elements right, you can point out specific songs that have changed the world."
He's often asked why there aren't many artists using these principles to address the injustices that abound in the world today. "My response is always: 'There are many. They just don't happen to be at the top of the charts currently,'" he said.
Morello has taken this as a challenge, and he's now made it his mission to reinvigorate protest music, turning it back into the force it once was. In June he launched a label, Firebrand Records, which he hopes will become the "one-stop shop for all your rebel music needs." To this end, Morello has signed artists that don't just talk the talk — they've been on the front lines of some of today's most urgent political struggles.
Firebrand's rebels. Eight artists from various genre — folk, indie, punk, hip-hop — currently call Firebrand home. Morello hypes up Ramy Essam, one of the leaders of the Egyptian revolution, whose song "Irhal" demanding Egyptian president Hosni Mubarak step down became an unofficial anthem for that struggle back in 2011. "He was tortured and lives in exile," Morello said. "He can't return home because of his political work in his country. He's kind of like the Rage Against the Machine of the Middle East." Using Firebrand's resources, Essam can still get his music to those that need it.
Morello co-founded Firebrand with Ryan Harvey, musician and co-founder of the Riot Folk Collective. Harvey partly inspired Morello's move to write political folk following the breakup of Rage Against the Machine. "Ryan and myself self-identify as activists who recognize the important role music can have in the social movements of the day," Morello told Mic. "There has never been a successful radical movement that hasn't had a great soundtrack. We're trying to push to the fore the artists that will be creating that sound track for the future.
From Egypt to Baltimore. The first track Firebrand released came from Son of Nun, aka Kevin James, a Baltimore rapper and former school teacher. He was on the ground throughout the Baltimore uprising, working as a street medic.
"Most of the things I saw were people getting pepper sprayed, in terms of things I treated," Son of Nun told Mic. "One of the things ... that was really inspiring for me to see was that everyone I treated went right back out to continue protesting. They didn't stop for more than a few minutes."
He captures these stories and this determination on his track "It's Like That." "Why are black people so mad?" he raps. "Because most of y'all ain't." It speaks to his experiences and amplifies them to a level few other expressions could reach. "It's kinda being like hand in glove," the rapper explained. "I can't take the music out of the organizing; I can't take the organizing out of the music."
Source: Soundcloud
Morello also singles out New York indie act The Last Internationale's "I'm Gonna Live The Life I Sing About In My Song," a cover of a Mahalia Jackson song. "It perfectly captures the mission of the Firebrand Records," Morello said of the track's title. "We're not pretending. We're gonna sing about this shit, but we're gonna act on it too."
Source: Soundcloud
Why are these voices not being heard? Explicitly political music like that of the Firebrand artists once had a much firmer platform to stand on than it does today. But with the industry struggling make the profits it once enjoyed, major labels aren't as willing to take chances on artists pushing such radical messages, like they did with bands like The Clash and Rage Against the Machine, which enjoyed the big-name support to help get their protest music out to the world.
But Firebrand isn't concerned with profit. The label is officially operating as a nonprofit, though Morello refines this impression: "We're actually an anti-profit label, which is very different," he says laughing while at the same time driving home how important this aspect is to the label's mission. "I say it jokingly, because one of the themes that runs through the artists are criticisms of runaway capitalism. So while it is a label that hopes to provide a good living for the artists on it, we would be foolish in 2015 to try to start a record label trying to be Interscope."
In all likelihood, Morello and Harvey won't get Son of Nun to the top of the charts. But they will get his music to the people who need the inspirational power it contains.
"'We Shall Overcome' was not just sung by people in the civil rights movement, but it propelled the civil rights movement. You look at the Dylan catalog, Pete Gabriel's song 'Biko,' Little Steven's Artists Against Apartheid records," Morello said. "Those songs changed global public opinion about apartheid in South Africa, and helped topple the regime. Music, when done right, is not to be trifled with. It can have a real substantive impact."
With Firebrand, Morello has all the cards in place to make that happen. And it's only a matter of time before the label's music starts reaching the ears of the next generation of activists and organizers that will use it to change the world.