15 Incredible Photos From Spain's Running of the Bulls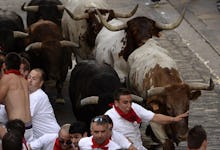 It's the second week of July, and that means it's time for Spain's annual ritual — the running of the bulls. The event, which takes place from July 6 to July 14, celebrates the country's San Fermín festival in honor of the local saint.  
The running of the bulls, first internationally popularized in Ernest Hemingway novels, involves the release of six bulls running through the streets in the town of Pamplona alongside crowds of human runners — hence the name "running of the bulls." The bulls stampede through the town before being led to a bullring, where they participate in a traditional bullfight. 
According to the event's website, the ritual began as far back at the 13th century from the practical necessity of getting bulls from outside into the town's bullfighting ring. If photos are to be believed, the tradition is again shaping up to be a rollicking and occasionally dangerous spectacle for both man and beast.
Inevitably, like in any event that involves being chased down by wild animals, the Pamplona mayhem also yielded scenes like this.
The storied Spanish ritual is also not without its critics. The Australian chapter of the animals right's group PETA blasts the event online, saying the treatment of the bulls up to and during the race is cruel and directs people to a rival protests website called Running of the Nudes. 
Meanwhile, Spanish bullfighting has long been a focus of international criticism for the treatment of bulls. Before a fight, the animals are often stabbed with spears and have needles inserted into their genitals. British comedian and animal rights activist Ricky Gervais took the sport to task on Twitter in May in a post that has since garnered more than 4,000 retweets.
For anyone looking to enjoy Spanish cultural traditions without potentially hurting animals, or themselves, there is always the world's largest tomato fight, held every summer in nearby Valencia.