In One Quote, Amy Schumer Sums Up the Importance of the Female Orgasm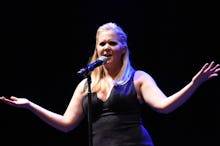 Feminist truth bomb manufacturer Amy Schumer has blessed us with yet another quotable gem in her new cover interview (!) for Glamour's August issue.
When the subject of sex came up, the Trainwreck star was quick to point out the oft-overlooked thing that women everywhere should always prioritize during sex: orgasms.
"Do what you feel you want to do while also considering how you'll feel the next day," she told the magazine. "Don't not have an orgasm. Make sure he knows that you're entitled to an orgasm." 
She continued: "I like to say it. I'll be like, 'Hey, there are two people here.' I'll be like, 'Oh my God, have you met my clit?' Don't be self-conscious."
The orgasm gap: Schumer's words are a valuable reminder to women who have sex with men that they deserve to enjoy it as much as their partners. While such a concept might seem like a no-brainer, Cosmopolitan conducted a female orgasm study earlier this year that found only 57% of women reported they usually have an orgasm during sex, while 95% said their male partners climax every time they have sex. 
Moreover, 72% reported sleeping with someone who had an orgasm who didn't bother to help them "finish" at all. 
The statistics point to a reality: The words "Have you met my clit?" are desperately needed in bedrooms all over the country — while lots of men could stand to learn an answer that's not simply, "Nah, but here's my D." 
Calling it like she sees it: Schumer's orgasm comment is just the latest example of her ongoing mission to call out the gendered double standards that pervade our culture, particularly when it comes to sex appeal.
Just last month, she made headlines with her Glamour Trailblazer Award acceptance speech, in which she called out body-shamers by offhandedly telling the audience, "I'm probably like 160 pounds right now, and I can catch a dick whenever I want. It's not a problem."
In the new Glamour story, Schumer told the magazine, "For women, we're taught to eat less until we disappear. And trained to believe that if you don't look like everyone else, then you're unlovable. And men are not trained that way. Men can look like whatever and still date a supermodel. I'm proud of what I said."
She has every reason to be. Between her body positivity and cliteracy crusades, Schumer is well on her way to becoming a major 21st-century feminist icon. Just call her butter, because girl is totally on a roll. 
h/t Huffington Post