Whoopi Goldberg Says She Won't Condemn Bill Cosby, Refuses to Make "Snap Judgements"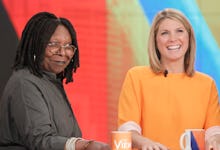 Despite Monday's developments in the protracted Bill Cosby rape saga, which now includes a 2005 deposition in which Cosby admits to obtaining Quaaludes in order to give them to women, Whoopi Goldberg is standing strong in her support for the actor and comedian.
Even after Cosby's own admissions, Goldberg refused to speculate about Cosby's history of systematic rape on Tuesday's episode of the View.
"I don't like snap judgments because I've had snap judgments made on me," Goldberg said. "So I'm very, very careful."
The View guest Candace Cameron Bure (whom one may recognize as D.J. Tanner from Full House) was unequivocally convinced Cosby is guilty. 
"If you're giving drugs to anyone to have sex, you're impairing their judgement. They don't even have the ability to make a coherent decision [regarding] if they want to have sex with them," Cameron Bure said. "I mean, to me, that just says, 'guilty, guilty, guilty.'"
"Well, as a former Quaalude user," Whoopi trailed off, joking in response and implicitly justifying the use of the drugs.
This is not the first time Goldberg has defended the actions of alleged rapists. She previously defended Cosby during a November 2014 episode of the View, saying she would "reserve my judgement ... because I have a lot of questions."
And in 2009, discussing Roman Polanksi, the famed movie director who was accused of and also admitted to drugging a 13-year-old girl and having sex with her when he was 43 years old, Goldberg created the crystal-clear and important distinction between "rape" and "rape-rape."
"I know it wasn't rape-rape. It was something else but I don't believe it was rape-rape," she said on the View in September 2009, possibly referring to the distinction made by Polanski's plea deal. "He pled guilty to having sex with a minor and he went to jail, and when they let him out he said, 'You know what, this guy's going to give me 100 years in jail. I'm not staying.' And that's why he left."
Goldberg's comments fuel a rape culture in which survivors are often treated as guilty of lying until proven innocent, and perpetrators often get a pass. The very existence of rape's statute of limitations is just one such example; in many states, there is no statute of limitations on crimes such as arson and forgery, allowing victims to prosecute at any time after the crime. 
Apologists and deniers like Goldberg are precisely what allow America's rape culture to thrive. And it's time everyone understands there is no real distinction to be made: "Rape-rape" is just another name for "rape."