The Extreme and Controversial Way Teens in China Are Treated for Internet Addiction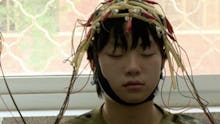 "Electronic heroin." This is how professor Tao Ran, the man in charge of the Chinese Teenagers Mental Growth Center, a nondescript building on the outskirts of Beijing where he treats Internet-addicted Chinese teenagers, matter-of-factly describes his patients' vice. 
Their dependence on the Web's enticing qualities is akin to a drug habit, he says: "Addicts crave and look for heroin every day. The teenagers we have here crave and look forward to playing games online every day."
His clinic is the setting of Web Junkie, a documentary from Israeli filmmakers Shosh Shlam and Hilla Medalia that follows the lives of three teenagers — Nicky, Hacker and Hope — as they soldier through Tao's treatment program. A 2014 Sundance Film Festival competitor, the film is set to receive its national broadcast premiere on July 13 on POV, an independent documentary series that airs on PBS.
The teenagers, all between the ages of 13 and 18, are not happy to be there. "I'm wasting my time here. I don't need any treatment," 16-year-old Hope tells a clinic employee. "I can stop playing if I want to," 16-year-old Nicky says to the camera, referring to multiplayer games like World of Warcraft that form the basis of most patients' addictions. For three to four months, they're locked down in Tao's clinic, cut off completely from their friends, families and the Internet — the only thing, it appears, in which they find pleasure.
Their unhappiness is not entirely unreasonable. According to one teenager, many of the adolescents at the center were brought there under duress. "Some kids were drugged, others were tricked into coming here," he says. Nicky explains that his parents told him the family was going skiing in Russia; instead, they brought him to the treatment center. 
"This place should be called Teenagers Mental Destroy Center," Nicky's friend says. "It's like brainwashing."
Internet addiction in China, particularly among teenagers, is not taken lightly. According to Web Junkie, China is the first country in the world to classify Internet addiction as a clinical disorder, and it has established more than 400 rehabilitation centers to thwart the Internet's supposed stranglehold on the nation's youth. 
It was one such treatment center — different from the one profiled by Web Junkie — that prompted the filmmakers to pursue the topic in earnest. After Shlam came across a news story about a young man who was allegedly beaten to death during his treatment, she decided to investigate further. 
"When I saw that, I wanted to bring up the dark side of the Internet," Shlam told Mic. "I thought that I should go to China, where the phenomenon is very extreme." Her research led her to Tao, who had helped formulate a definition of Internet addiction: users who spend more than six hours a day online for purposes other than work or study.
Shlam said the crew didn't receive permission from the Chinese government to film the center, but Tao provided the access. "The only permission we had [was] from Professor Tao, because he thinks that his method should be spread out in the world," she told Mic.
"The parents are bringing their kids to the center because this is really their last resort. They don't know what to do."
But should this method catch on? Early on in the film, the treatment center resembles the fantasy of an excitable disciplinarian. The teenagers are miserable, tired and frightened; they're forced to endure countless therapy sessions with clinic employees, many involving their distraught parents. They're required to submit to physical tasks and educational seminars.
In one particularly harrowing segment, Hope is exiled to solitary confinement after he and a few friends escape from the grounds of the clinic to flock to a nearby Internet café. As the plan's mastermind, he takes the fall, and spends 10 days locked away by himself. 
The discomfort that comes from watching a vulnerable teenager trapped in isolation for addiction, a sin that is deeply complex often misunderstood, is acute. But it's in this moment and others like it — ones that depict the raw pathos of film's subjects — that Web Junkie shines.
As the film moves along, however, Tao's treatment program begins to seem less dictatorial and more like what it is — a last hope. Part of this stems from the inclusion of the teens' parents — emotional, tormented by their children's descent into Internet addiction and at their wits' end, they wring their hands in group therapy sessions and in on-camera interviews, asking what they can do to help.
"Since he started to use the Internet, he alienated his friends [and] his relatives," one mother says. "His classmates would come over inviting him to go out and play, but he refused them." Another discusses her son's shift in personality: "He changed into a different person." Some teens dropped out of school and stopped bathing; others wore diapers so they wouldn't have to stop playing. 
"It's important to understand that the parents are bringing their kids to the center because this is really their last resort," Medalia told Mic. "They don't know what to do."
"Nicky changed schools, and he's now working. Hacker actually goes to an arts university, and Hope is in the States now."
For the filmmakers, the point was not to judge the school on the basis of fairness.
"Do we agree with the way they treat? No," Medalia told Mic. But, she added, the teens have serious problems — and besides, it's not their job to judge the center on the basis of fairness.
"I don't think that we are the people to ask if it's a good way or not," Shlam said. "We are documentary filmmakers. We came to this place because this place is unique."
Still, they say the message of the film is universal. "The phenomenon [of Internet addiction] is everywhere," Shlam said. "We have to remember, it's not only China." The major theme the film touches on — pervasive loneliness in spite of our increased connectedness — spans the globe, according to the filmmakers.
But there is a nagging problem the film introduces yet doesn't quite resolve. Drugs and alcohol aren't imperative in the daily lives of non-addicts; technology and the Internet, however, are.
"You cannot just stop it," Medalia conceded. "With [the] Internet, it's such an integral part of our life. After you go into the center and cold turkey, not use it — you go back home, how do you [avoid it]?" It's a different animal than something like heroin, which isn't required for, say, most jobs or communication habits.
When asked about the three teens, however, Shlam and Medalia were hopeful they would be able to live their lives free from Internet addiction. 
"We're in touch with Nicky and with Hacker," Medalia told Mic. "Nicky went back to school afterwards, but he had some issues. He changed schools, and he's now working. Hacker actually goes to an arts university, and Hope is in the [United] States now."
"Hopefully," Shlam said, "they are doing OK."