When No One Was Showing Up, the Internet Gave This 10-Year-Old the Best Birthday Ever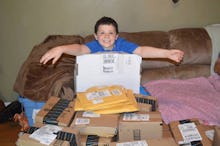 Camden Eubank doesn't have many friends. The 10-year-old Virginian has a speech delay called Apraxia which often makes it difficult for him to speak under pressure. To better manage the condition, Eubanks is homeschooled, but as a result, he is often further isolated from other kids his age. 
So when Camden started talking about having a big tenth birthday party, his mother, Traci Eubank, panicked. Worried about turnout, she did the only thing one can do in these modern times and posted a public event to Facebook urging any and all to come. 
"I know all kids should learn disappointment in life — but sometimes other kids are so cruel. Camden is turning 10 on July 6th and wants to have an ultimate water balloon fight party with 2,000 balloons and lots of kids," the post reads. "I am extending an open invitation to anyone with kids that wants to come throw some water balloons with one awesome little boy." 
Eubank soon after posted her concerns on the Facebook page of the CHERAB foundation, a nonprofit speech disorder support group, where organization president Lisa Geng encouraged Eubank to reach out online and look for party guests outside of Camden's normal circles.
Eubank's original Facebook event went viral after it was posted to Reddit and attracted more than 5,000 likes by Tuesday afternoon, and the results were better than anybody could have expected. 
According to WDBJ7, roughly 300 people from across the state converged on Troutville Park on Monday to throw water balloons and feast on more cakes than people knew what to do with.
Von Lester, who traveled more than four hours from Newport News, Virginia, to attend the event summed up the spirit of the attendees. "Just because he does have that speech delay, doesn't mean that people aren't going to like him," he told WDBJ7. 
Eubank received gifts from all over the world, and a GoFundMe campaign to defray the costs of the party raised more than $1,000 in seven days. Photos posted to the event Facebook page indicated a resounding success. 
The party was also a story of redemption for Reddit, which has mostly made headlines for its communities trolls and hatefulness. Attempts by the company to shut down the worst offenders provoked an avalanche of online vitriol — and a mass exodus to rival site Voat.
Attempts to reach the Eubank family were unsuccessful.