Meet Mya Taylor, the Trans Actress Set to Take Hollywood by Storm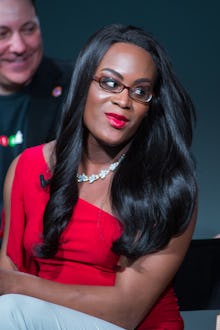 Talking to Mya Taylor, star of the new buddy dramedy Tangerine, premiering Friday, is like playing chess. She thinks of acid-doused quips quicker than most humans can think up a half-hearted burn. She exudes confidence. She commands the room with ease, nonchalantly waiting to receive her next guest. Her presence is positively royal, and she knows it.
"I know what you're about to ask," she says at one point in an interview with Mic. The next question is about whether it was more difficult to act opposite an iPhone, which was used for the duration of filming Tangerine, instead of a traditional camera. She guesses the question nearly verbatim. 
Taylor is a master of this perfectly pitched shade. There's no insult being verbalized, but she's subtly reminding that as a verbal chessmaster, she's always one move ahead. That persona is what makes her electrifying to watch in Tangerine, and why she's about to take Hollywood by storm — if it will let her in.
Director Sean Baker cast Taylor in untraditional fashion: According to Los Angeles Magazine, he saw her at the Los Angeles LGBT Center and was struck by how well her physical presence would play on-screen. She was interested, even introducing Baker to her costar and roommate Kitana Kiki Rodriguez. But the script needed a bit of a face-lift before she'd get on board.
"In the beginning, I told Sean if I'm gonna do this movie — I know what the storyline is, it's sad as fuck — but I don't want a theater full of crying people," she said. "That's just not my personality."
Tangerine's story is as wild in theory as it is in practice. It's Christmas Eve in Los Angeles, and a trans woman named Sin-Dee (Rodriguez) meets with her friend Alexandra (Taylor) over a doughnut. Alexandra accidentally tells Sin-Dee her boyfriend/pimp is cheating on her — with a cis woman, no less. What follows is 88 minutes of Sin-Dee hunting her boyfriend and the other woman down in a wild trek across Los Angeles, with Alexandra reluctantly along for the ride. 
The film works in large part because of its authenticity. Shooting on an iPhone, mixed with the two leads' authentic performances — Taylor said their characters were heavily based on their own personalities — gives audiences the feeling that life is happening live on-screen.
"Life was actually happening," Taylor said. "We had a script we had to follow, we had certain beats, but we were able to tweak and do what we wanted, with how we talked." That involved basically translating Baker and cowriter Chris Bergoch's script into the vernacular she and her friends use. "Hold on," Taylor recalled saying upon seeing the script. "I don't say this shit."
The final result is incredible. Tangerine is funny, gut-wrenching and heartwarming in equal measure. It shows the true hardship of living as trans in America, never editing to make the story more palatable. At one point, a character gets doused in urine and gets called multiple slurs. Such a scene could have been jarring in a comedy, but to call Tangerine a pure comedy does it a disservice. It's a vivid, powerful slice of life and truly a movie of its moment.
Despite the film's deafening buzz since it opened at the Sundance Film Festival, it's still a tiny independent film about trans women. Gaining traction with audiences will be a tricky game — as breaking out in Hollywood will be for Taylor.
Taylor is not Laverne Cox, nor is she Caitlyn Jenner. She's hard-edged and confident in a media world that often rewards perceived vulnerability. Her defiance is admirable, though it will make her journey all the more an uphill climb.
Mya Taylor is not Laverne Cox, nor is she Caitlyn Jenner.
There's a change in the tides happening, though. Now may indeed be the time for different kinds of trans women to break out in Hollywood. It should be, at least. We need their voices represented.
"I'm hoping that it opens up more doors for artists like me and Laverne [Cox] and Janet Mock and Ts Madison and Carmen Carrera," Taylor said of Tangerine. "I hope it opens up doors for other girls other than us too."
Every bit of progress helps. A film as tremendous as Tangerine is what we need to move us forward — and to make a sensational, sharp, truly original artist like Taylor a star.
Tangerine opens Friday in New York and Los Angeles. Watch the official trailer below.