Hillary Clinton Rips GOP On Immigration in Her First National TV Interview of the Campaign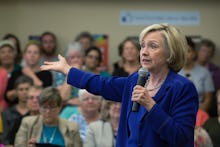 Hillary Clinton used her first national television interview of the 2016 campaign to call out top Republicans for their opposition to comprehensive immigration reform, saying GOP candidates "range across a spectrum of being grudgingly welcome or hostile toward immigrants."
"We know we're not going to deport 11 million or 12 million people. We shouldn't be breaking up families. We shouldn't be stopping people from having the opportunity to be fully integrated legally within our country," Clinton told CNN's Brianna Keilar. "So I am 100% behind comprehensive immigration reform that includes a path to citizenship."
Asked to respond to Donald Trump's recent attacks on Mexican immigrants, Clinton said she was "very disappointed" by his comments and questioned why the Republican Party had not stepped in earlier to say, "enough, stop it." 
"But [the candidates] are all in the same general area on immigration," Clinton continued, arguing that, on a policy level, Trump is not very far apart from big ticket names like former Florida Gov. Jeb Bush and Florida Sen. Marco Rubio.
"[Bush] doesn't believe in a path to citizenship," Clinton said, rejecting the suggestion the former governor was markedly different from his opponents. "If he did at one time, he no longer does. And so pretty much they're — as I said, they're on a spectrum of hostility, which I think is really regrettable in a nation of immigrants like ours, all the way to kind of grudging acceptance, but refusal to go with a pathway to citizenship."
Keilar also pressed Clinton on the private email account she used during her time as secretary of state in the Obama administration. After leaving office in 2013, Clinton deleted an estimated 33,000 messages, which she has maintained were innocuous or personal. Her opponents, mostly Republicans, accused Clinton of having used the account to hide potentially illegal or unseemly activity.
"Let's take a deep breath here," Clinton said on CNN. "I didn't have to turn over anything. I chose to turn over 55,000 pages because I wanted to go above and beyond what was expected of me because I knew the vast majority of everything that was official already was in the State Department system." 
Then there was the issue of trust. In a series of polls, both nationally and in swing states, voters have expressed some skepticism toward Clinton. A CNN/ORC survey from late May found that 57% of respondents said they did not believe she was "honest and trustworthy," while just 42% did.
Clinton blamed what she called a "constant barrage of attacks that are largely fomented by and coming from the Right" for the poor poll numbers.
At one point, Keilar stopped the former secretary of state and asked, "Would you vote for someone that you don't trust?"
"Well, people should and do trust me," Clinton responded. "And I have every confidence that that will be the outcome of this election."