Disney World Just Removed Bill Cosby's Statue From Its Hollywood Studios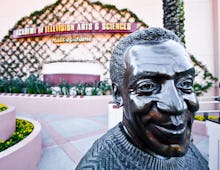 Walt Disney World removed its bronze statue of Bill Cosby in Hollywood Studios Tuesday night, one day after the Associated Press obtained Cosby's 2005 testimony in which he reportedly admitted to getting "Quaaludes with the intent of giving them to young women he wanted to have sex with."
The statue in the Academy of Television Arts and Sciences Hall of Fame Plaza was taken down after the park was closed. Aside from an initial statement explaining the statue would be removed, Disney did not provide any additional comments.  
For months prior, an online petition was gathering signatures, calling for the eviction of the bronze statue after Cosby rape allegations spanning 40 years grabbed the attention of the mainstream media. 
Monday's revelations of Cosby's testimony appear to have generated more official condemnations of the comedian than the allegations of dozens of women did. BET's Centric Network and Bounce TV both announced the cancellation of all planned reruns of Cosby's television shows in the aftermath of the scandal's most recent developments. Many on social media also took the opportunity to use Cosby's case as a prime example of the issues with rape culture in America.
However, throughout the entire ordeal, Cosby has remained steadfast with his nonresponse:
While there remain a dwindling number of loyalists, such as Whoopi Goldberg, the general consensus seems to regard Cosby's alleged pattern of systematically drugging and raping women as irrefutable. The statute of limitations on his crimes have expired, meaning no criminal charges have been brought against the comedian, perhaps postponing the collective conclusion that Cosby is guilty. But Cosby's own admission, under oath, has allayed any lingering suspicions for many.