This App That Shows Who Unfriended You on Facebook Is So Popular It Crashed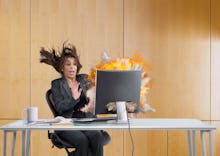 Would you like to learn which of your old college hookups no longer wants to be your Facebook friend? To know who, out of everyone you've forgotten about, has forgotten about you too? 
So would a lot of people, apparently: The app Who Deleted Me, which lists anyone who unfriended you, went viral this week — and promptly crashed.
Who Deleted Me is a mobile app and Chrome extension made by the Media Dudes. It's simple: After installing it, it'll tell you when one of your former friends decides your status updates are worse than your personality.
Who Deleted Me works by monitoring your friends list from the moment you download the app, and when someone deletes you or deletes their own account, you'll be notified. You'll also be alerted when you gain new friends — less exciting since that's already a Facebook feature, but still nice to see if you're experiencing a deluge of unfriending. Unfortunately, the app can't tell you who unfriended you before you installed it.
Of Who Deleted Me's userbase of roughly half a million people, around 330,000 joined this month. The poor app just couldn't keep up with demand. But there's hope, if you're eager to use it: According to BuzzFeed, a spokesman at the company said the Media Dudes are trying to get Who Deleted Me back up. 
But first, you might want to ask yourself: Do you really want to know this?