One Awesome Reason To Love Kendrick Lamar's New Reebok Sneakers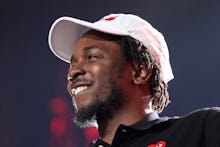 Kendrick Lamar's latest release isn't a track for an upcoming album — but it still sends a clear message.
On Tuesday, photos of what appears to be the latest in a collaboration between Lamar and Reebok hit the French sneaker site Sneaker.FR. The off-white kicks, in Reebok's classic Ventilator style, are stamped with the words "Red" and "Blue" on the heels, with coordinating colors on the tongues. Look under the tongue of each shoe, though, and you'll see the word "neutral."
The nod to rival gangs the Bloods and Crips — as well as Lamar's perspective on the ongoing gang battles — couldn't be clearer.
More than just blue and red: Lamar's collaboration with Reebok, announced in 2014, has already brought us a line of cool DayGlo sneakers, unveiled in April. But this new edition, which don't appear to be on sale until July 18 nor promoted by Reebok yet (Mic reached out to the company for comment), seem even more in line with Lamar's style.
The ascendant rapper's lyrics are shot through with references to his beloved Compton hometown and the violence that often fragments its streets. The colors red and blue have long been ways for gang members to self-identify themselves as rivals, and the wrong color in a neighborhood controlled by another gang can be deadly. 
Staying "neutral," as the shoes say, isn't easy. As Lamar raps in "Compton State of Mind," "Me, I'm just a good kid trying to keep it neutral/ But I'm well-aware that a square can get shot too." 
The message he seems to be championing with the shoes, as he's stated repeatedly in his lyrics, is one of unity. His album To Pimp a Butterfly interweaves a powerful poem touching on gang violence:
"Just because you wore a different gang color than mine's
From the outset of his Reebok collaboration, Lamar's stated goal has been to inspire kids to rise above it.
"Reebok has a history of helping kids in the community realize their potential is limitless. I saw what the brand was doing, and I wanted to be a part of it and make it even stronger. It's as simple as that," Lamar said in a Reebok press release.
Sending a statement with a product: It's not random that Lamar has chosen sneakers to convey the message of neutrality. Sneakers were a big part of his childhood, as they are for so many young black men.
"I identify with originality and with a brand that identifies with culture in the community, and with my memories of wearing them in middle school," he told Reebok.
There is, of course, something to be said about using messages of cultural unity, uplift and revolution to sell shoes — in fact, partnering with such a massive brand may seem antithetical to the very premise of To Pimp a Butterfly. As Mic's Tom Barnes wrote in April, "In a single minute [in Lamar's first Reebok promo video], he supplants his record's call to re-examine our view of race and the power of celebrity influence with a call to buy Reeboks."
If the new gang-inspired shoes are any indication, Lamar has bigger goals in mind than selling sneakers. As an artist who consistently champions unity over gang violence, not to mention is self-aware about his own fame and fortune, this sneaker collaboration might represent him in the best way possible.