Martin O'Malley Just Unveiled His Plan to End Student Debt, and It's the Boldest One Yet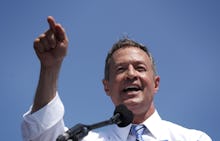 On Wednesday, Democratic presidential hopeful Martin O'Malley released a proposal for tackling the student debt crisis that entails more sweeping reforms of the American higher education system than Sen. Bernie Sanders' (I-Vt.) plan for free tuition at public colleges.
The former Maryland governor, who has taken on more than $300,000 in debt to pay for college for two of his four children, has made the idea of "debt-free college" the centerpiece of his education policy vision.
"Debt-free" might not sound as sexy as simply "free," but O'Malley's approach could in fact create a more effective mandate for radically reducing the cost of college in the United States. That's because Sanders' focus on tuition diverts attention away from a vital part of the equation — costs for everything out of the classroom, from housing to text books.
"Debt-free college is in many ways more progressive than offering free tuition, since non-tuition costs make up well over half of what students pay, and take on debt, for," Mark Huelsman, a senior policy analyst at the think tank Demos, told Mic.
O'Malley's proposal lacks some important details, such as the price tag of the reforms and how he expects to find the required funds, but it's bold set of ideas certain to advance the Democratic conversation on one of the critical policy battlegrounds of 2016. Here's what you need to know:
The plan: O'Malley's proposal, which he laid out at an event in New Hampshire on Wednesday, envisions a country in which "all students have access to a high-quality debt-free college education within five years, attainable at any in-state public college or university."
How would he go about achieving that? He's calling for states to freeze relentlessly escalating tuition rates at their public colleges and to reinvest in them. He would create incentives for states to increase funding for their college by partnering with them and providing them with matching grants from the federal government.
The most striking component of O'Malley's proposal is the idea that public tuition should be tied to median incomes in a state. The plan sets out the goal of reducing the cost of tuition "to no more than 10% of state median income at four-year public universities, and to no more than 5% of median income at two-year public colleges."
Would it work? Barmak Nassirian, director of federal relations and policy analysis at the American Association of State Colleges and Universities, told Mic it's a good idea, but the execution could be tricky. 
"From an affordability perspective, it certainly makes a lot of sense to link costs to median incomes, but it will be extremely difficult  — and expensive — to create policy mechanisms that tie these two independent variables together," Nassirian said.
Logistics aside, the important takeaway is that O'Malley wants tuition to be completely affordable for someone who works while in school.
As for the non-tuition costs of college, he offers two ideas: increasing Pell grants — federal grants that target lower-income students and don't have to be repaid — and tripling the size of federal work-study programs.  
O'Malley also calls for debt relief for existing borrowers by allowing them to refinance their loans at lower interest rates. Perhaps one of the most important reforms he proposes is automatically tying minimum payments to borrower income (a payment scheme that a borrower can opt out of). Income-based repayment is already available on federal student loans, but many borrowers are unaware of this, and that information gap is the crux of why millions of borrowers across the country are defaulting on their student loans.
O'Malley vs. the rest: Again, O'Malley's language of debt-free is in some ways more ambitious in scope than Sanders' plan for free tuition. That being said, Sanders has also suggested increasing Pell grants, and depending on exactly how big he would make that expansion, he could effectively be reducing the cost of non-tuition-related expenses for lower-income students in a manner that matches O'Malley. The reality is that more details are needed to attempt to ultimately determine which plan would best serve the poor and the middle class.
Hillary Clinton has floated the idea of debt-free college as well, but she isn't expected to roll out any concrete stances or proposals until later this summer.
On Tuesday, Republican presidential candidate Sen. Marco Rubio (R-Fl.) shared his own vision of how the higher education system needs to be reformed. His plans included the promising income-based repayment enrollment idea that O'Malley proposed (but the idea belongs to Rubio — he introduced legislation with that element in the Senate in 2014). Rubio also had some deeply worrying ideas, including loosening the accreditation system to allow for more profit-driven education companies to enter the mix and suggesting that wealthy investors should help students pay for tuition in exchange for a share of their wages after graduation. So far, the evidence suggests that the more the private sector is involved in higher education, the worse off it is.
As for O'Malley, his proposal gets him into the mix of the policy discussion at a time when his campaign is having trouble getting off the ground in Iowa and New Hampshire. His call for debt-free college is a play for support from the liberal wing of the Democratic Party, which has so far coalesced behind Sanders. Based on the details of his proposal, it's a good first step.