Chrissy Teigen Just Called Out Instagram's Double Standards With John Legend's Butt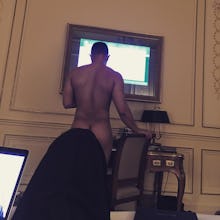 Chrissy Teigen, social media maven, called out Instagram on its sexist photo restrictions by posting a picture of her husband, John Legend's, buttocks on Tuesday. Teigen also tagged @Instagram directly on the post, in what appears to be a direct jab at the platform's double standards on male and female nudity.
Images showing "intercourse, genitals, and close-ups of fully-nude buttocks" are not permitted, according to Instagram's Community Guidelines. However, at the time of this article's publication, Instagram had not removed the nude photo of Legend. The same goes for Justin Beiber's equally fleshy post from Tuesday.
Teigen playfully confronted Instagram in June by repeatedly posting pictures of herself with an exposed nipple, adding a different filter each time; every single one of them was removed. She was hinting at an arbitrary rule in the app's community guidelines, in which paintings and sculptures of female nipples are acceptable (but photographs are not) by using filters that made her photos look like artwork.
To make matters worse, users reinforce these sexist double standards with the comments they leave. As one Tumblr user pointed out, comments on Beiber's nude photo include "he surreeeee is packing" and "amazing view!" But when model Bryana Holly posted a picture of herself scantily clad — not nude — the comments were misogynistic and hateful. 
"Clothes are made to cover your body, not show it. And overall straps exist to hold up the front, not to show the world your boobs," one person wrote. "PUT A BRA ON OMG EW GET A LIFE YOU BITXH" and "your a slut," wrote two others.
The gender divide here seems readily apparent, but some on social media are standing behind Instagram's guidelines, arguing no such double standard exists:
However, others have joined the growing chorus of people taking issue with the inherent sexism of these photo guidelines.
There is a vicious cycle on social media of treating women's bodies differently than men's. The restrictions suggest parts of the female body are not appropriate for public consumption, while almost all of the male nude is acceptable. Slut shaming and these double standards will not end until the woman's body is normalized by society, yet existing user policies only reinforce the status quo.