Watch an Exclusive Clip from the New Trans Buddy Dramedy 'Tangerine'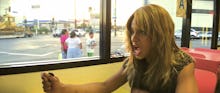 There are a lot of reasons to love Tangerine, the indie dramedy about two trans women in Los Angeles coming out this week: brilliant rising star Mya Taylor; her equally talented co-lead Kitana Kiki Rodriguez; a story about being a trans woman told in an honest, un-hackneyed way;  director Sean Baker's ambitious choice to shoot the entire film on an iPhone.
Tangerine has a tremendous amount to recommend it, but don't take our word for it. Watch the opening scene of the film to be instantly charmed.
In the clip, recently released from prison Sin-Dee (Rodriguez) buys her friend Alexandra (Taylor) a donut to share on Christmas Eve. They make small talk about their financial status, then about Alexandra's transition process.
Then Sin-Dee says she's got big news about her boyfriend Chester. Alexandra, yelping with joy, congratulates her on finally dumping her cheating boyfriend.
The problem: They didn't break up, and Sin-Dee had no idea about the infidelity.
This is the film's inciting incident: How will Sin-Dee react to this news? Will she seethe? Cry? Throw a fit in the donut shop? Get over him and move on?
Sin-Dee settles for getting even.
That's just the beginning of the story, of course. Watch the full clip below. Tangerine hits New York and Los Angeles theaters Friday.