Actor Matt McGorry Just Freed the Nipple in the Best Way Possible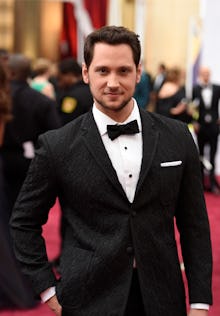 Orange Is the New Black actor Matt McGorry is well-known for his feminist musings on social media, but this might be his most creative feminist post yet.
In an effort to point out the glaring double standard in Instagram's censorship policy, he posted a topless photo Wednesday, swapping his own totally acceptable male nipples with two famously banned female nipples, belonging to Miley Cyrus and Chrissy Teigen, each of whom posted topless photos that were taken down by the photo-sharing site. 
"Can't you tell by how perverse my photo has become without my asexual male nippies? Sarcasm," he joked in the caption accompanying his Instagram post. "The banning of women's nipples may sound normal or even inconsequential as you think, 'well, women's nipples are more sexual than men's nipples.' But that's not some scientific fact. It's because of how our society so heavily sexualizes women."
Although McGorry says he's new to the movement, he details the history and importance of the Free the Nipple campaign in his post. Started by Lina Esco in 2014, the feminist group aims to break down laws and policies that ban women's nipples in public and digital spaces. "Part of the stand of #FreeTheNipple is about the right of women to claim what their breasts and nipples mean to THEM, and not have that be defined by how men and much of society decides what their boobies mean," he wrote. 
In his post, the actor also stressed the importance of individual choice. Like the founder Lina Esco said before, the movement is not about forcing women everywhere to walk around topless; it's about having the freedom to do so.
McGorry later told Mic in an email that he was influenced by women who were editing men's nipples onto photos of themselves and posting them to Instagram in protest of the platform's policy. 
"I think it really calls out the arbitrary nature of the censorship. What if I posted a boob with the nipple cut out and posted it on another part of the photo instead? Would that be allowed? Or if a woman posted another woman's nipple on her own? If I photoshopped a dick or vag onto my forehead, it'd certainly get banned. But why is it that the gender of the nip determines it's appropriateness? I'm hoping it'll spark some thinking and conversation."
Why are we freeing nipples? Although it's easy to reduce the movement to simply women's breasts, Free the Nipple is about much more than that. McGorry says he thinks this is the tip of the feminist iceberg. "It's not just about getting an even tan; it's one piece of the puzzle of creating deep change in the way our society objectifies women and creates these different standards for men and women (and other genders)," he wrote. "At the heart of it, it's simply about gender equality and equal rights."
He's right. Instagram's censorship policy forbidding women from posting topless photos of themselves is discriminatory. Topless men simply aren't policed in the same fashion. It's the same body part, but because women's breasts are oversexualized, they are treated differently. Instead of requiring women to cover up, maybe it's time we ask why we regulate women's bodies, whether it's with school dress codes or laws that govern what women can wear in public. It's clear that our culture can be inundated with sexual images of women, and yet it becomes uncomfortable when women own that sexuality and have full control of it.
A nipple is a nipple. It's time to free all of them, regardless of the gender of the body they are attached to.
July 8, 6:45 p.m. EST: This story has been updated.