Watch Donald Trump Claim He'll Win the Latino Vote In His Most Delusional Interview Yet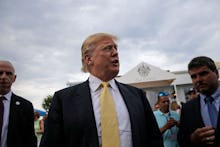 In a long interview with NBC News on Wednesday, Donald Trump shared a privately held truth with the American public. 
"I'm going to win the Latino vote," the reality TV star turned Republican presidential candidate said. "I love the Mexican people. I love their spirit. Many of them work for me right now."
But the pitch didn't stop there. 
Trump came bearing "jobs" — "I will be the 'jobs president'," he said, before pledging to build an "impenetrable" border wall with the Mexican government's money. He also guaranteed that none of the Mexican-born men and women working on his properties were in the country without proper documentation.
When he paused from praising the fine character of immigrants — "not illegal immigrants!" — Trump set about roasting Democrat Hillary Clinton, declaring her the worst secretary of state in American history. 
Trump and Clinton had been on friendly terms, at least in private, before the campaign began. By Tuesday, though, the relationship had taken a less chummy tone, as Clinton pronounced herself "very disappointed" in Trump for describing immigrants entering the U.S. across the Southern border as "rapists" and "killers."
Wrapping up their chat, interviewer Katy Tur thanked Trump. They shook hands. He called it a "great honor." 
But about five seconds later, as he unlatched his microphone, the candidate offered a less kind assessment of Tur's questions:
For Trump, the positives are in the Republican primary polls. In a crowded field that could swell to 16 candidates before the end of the summer, Trump trails only former Florida Gov. Jeb Bush in the latest CNN/WMUR 9 poll out of New Hampshire. Wisconsin Gov. Scott Walker, another establishment favorite, leads in Iowa, home to the first nominating contest, with Trump and Dr. Ben Carson nipping at his heels, according to a recent survey by Quinnipiac University.
So what's next for Trump, who is all but assured a place on the Republican primary debate stage in Cleveland on Aug. 6?
The circus is heading west.
You can watch Trump's full interview here: