These High-Tech Toys Are Revolutionizing the Way We Have Sex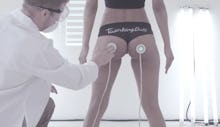 Future of sex, thy name is Twerking Butt.
That's what Pornhub would have you believe, if the release of its upcoming sex toy is any indication. The online smut conglomerate is dipping a toe in the high-tech sex toy market with its latest release, which is pretty much what it sounds like: a bouncing derriere you can stick your bathing suit parts in.
At $699, the ability to copulate with a rapidly gyrating silicon booty doesn't come cheap. But with "multiple twerking patterns, customizable rhythms, massage speeds, sensual vibrations and simulated body heat," as well as VR goggles that help you simulate anal sex with the porn star of your choice, the Twerking Butt is far more than a novelty sex toy. It's a high-tech, all-immersive anal sex experience.
"They said 2014 was the year of the booty," Pornhub vice President of communications Corey Price told Mic, citing the website's Boobs, Butts and Beyond insights report. "Throw in the hoopla over 'twerking,' and our Twerking Butt idea quickly came into fruition. Sure there are Fleshlights on the market, even those that look like butts, but what the Twerking Butt has that no other product does, is that rhythmic gyration. Who wouldn't want that?" (Perhaps a lot of people, but carry on with your bad selves, Pornhub.)
While the giant vibrating derriere is the first butt-shaped Fleshlight with rhythmic gyration, it's one of several high-tech sex toys taking advantage of virtual reality and other cool technologies (see: 3D-printed vibrators) to revolutionize pleasure as we know it. We might not all want or need accessories to enjoy our sex lives; but in 2015, we have more options than ever.
Welcome to the Future of Sex: It's about to get awesomely weird. 
1. We can have "sex" even when we're hundreds of miles apart.
You're at home watching Shark Tank while your significant other is away on a business trip, and Robert Herjavec's baby blues are making you feel frisky. Instead of reaching for your vibrator for some solo exploration, you text your boyfriend and grab your Pearl, a slim vibrator that pairs up with his Fleshlight-like Onyx device to simulate the feeling of real, partnered sex.
The concept is called teledildonics, "social sex toys" that connect people over distances. Designed by Fleshlight and the Dutch sex toy company Kiiroo, the Onyx and Pearl are one prominent example of the new connected sex toys. The devices, which rely on touch screen-style technology, are primarily marketed at long-distance couples.  "Nowadays, people live where their jobs are," Trish O'Grady, a Fleshlight representative, told the Daily Dot in January. "So a lot of relationships are long-distance. [These toys] give you the opportunity to connect from far away, rather than playing by yourself."
2. We can get up close and personal with our favorite porn stars.
Despite assurances from virtual reality company Oculus that it will actively prohibit sexually explicit content, developers have been eagerly taking advantage of the motion capture technology to make users feel like they're up close and personal with their favorite porn stars.
"The resolution is basically identical. It's anatomically correct and with the motions you have the really subtle movements of the inner labia and the clitoris," developer Brian Shuster of the virtual reality XXX network Red Light Center told the Daily Beast last year. If that's not enough for you, the technology is apparently so sophisticated that a virtual porn star will be able to exhibit signs of "wetness." (Cool, we guess?)
3. We're going to be hooking up with holograms.
It sounds a little Star Trek, but some consumer experts have predicted holodeck technology will soon become widely available in homes. "Games, films, shopping for cars and vacations, and (of course) porn will all become immersive 3D experiences," the Pew Research Center reported in a 2014 questionnaire about technology. "So will the 2025 version of that primitive tool that we call Skype today." So if you think fooling around with your long-distance boyfriend on Google Hangout is awkward, try doing it with him as a hologram. It's on its way to becoming a reality.
4. We can use our phones to turn each other on.
Another biggie in the field of teledildonics are remote-control sex toys that lets you get other people off by using your phone. The Bluetooth-embedded vibrating smart panties by OhMiBod, which lets people control the speed and intensity of the vibrations via app, allows couples to connect over long distances. It even works in airplane mode, allowing users to scale the heights of pleasure at 35,000 feet.
5. Our toys are getting to know us as well as we know ourselves.
Vibrators are already great at delivering orgasms (again... and again... and again until the batteries are fried and your hand is buzzing and you find yourself wincing in spin class the next day); but they don't offer the personalized, human component of intimacy. That's why entrepreneurs like Sunny Allen have created smart sex toys like the Hum, a sensor-equipped vibrator that learns what your vagina likes and responds accordingly. The future of sex toys includes products that better replicate the experience of being with a human lover, as Kenny Hawk, the former CEO of sex toy company Jimmyjane, said recently.
"They are going to be intelligent," Hawk told Vice's Motherboard. "For example, learning the inside of a woman's vagina: temperature, pressure, moisture level, maybe even the blood flow. Every person has their own unique orgasmic fingerprint, so as these products become smarter, they'll be able to adjust to it."
6. We're getting turned on while improving our health.
Last year saw the release of the kGoal, a smart sex toy that delivers pleasing vibrations while you're doing Kegels, or pelvic floor exercises, that simultaneously provides feedback. According to research, doing Kegels regularly not only helps increase the strength of a woman's orgasm, it also reduces the risk of incontinence after giving birth. 
7. Our sex robots are going to talk.
The term "sex robots" typically conjures up images of Jude Law from A.I., or maybe a sexed-up version of Rosie from The Jetsons. But experts predict that future sex robots will look more like humans than clunky pieces of metal scrap — and we'll be meeting them sooner than we might think. One expert predicted in a consumer report that sex robots will be "commonplace" on the market by 2025; and as the New York Times demonstrated in a recent video, manufacturers like RealDoll are already collaborating with robotics companies to give dolls the ability to move, blink, and even open and close their mouths on their own. Creepy? Maybe. Impressive? Absolutely.
8. We now have butts that twerk on command.
What more could a human need?