Everyone Needs to See This State Rep's Passionate Speech to Take Down the Confederate Flag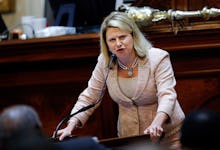 During an extended debate in the South Carolina House of Representatives, before the chamber ultimately voted to remove the Confederate battle flag from the Statehouse grounds, one representative stood up and told lawmakers the hard truth about why the flag's time had come. 
Rep. Jenny Horne, a Republican member of the Charleston House delegation who called herself a descendant of Confederate President Jefferson Davis, said the issue boiled down to basic human decency. 
"The people of Charleston deserve immediate and swift removal of that flag from these grounds," she said in an at times emotional speech. 
Horne warned fellow House members to be wary of amendments, saying the passage of even one would result in a conflict between the Senate and House bills and would require the versions be reconciled in a conference committee. Merging two competing flag bills, which would have then required new votes in both chambers, could lead to a summer-long deadlock.
"We can save for another day where this flag needs to go," said Horne, who exhorted her colleagues to take a pass on procedural hurdles and vote for a clean bill. "If we amend this bill, we are telling the people of Charleston, 'We don't care about you.'"
Horne, who said she attended the funeral of Charleston massacre victim state Sen. Clementa Pinckney, added she could not accept the flag's continued presence, as a number of her colleagues found it offensive.
With the 94-20 early morning House vote, the last major hurdle to the flag's departure was lifted. Republican Gov. Nikki Haley, who previously stated her support for removing the flag, is expected to sign the bill into law Thursday, meaning the flag could be taken down as early as Friday.  
Though Horne said she is a Republican and a lifelong South Carolinian, in her eyes, the choice was clear: The flag needed to come down.
Once the flag is removed from the capitol grounds, it will take up residence at its new home, the Confederate Relic Room and Military Museum. It has flown over the Statehouse grounds in one form or another since 1961. 
Watch the full video here.