This Woman Sticking Up for Her Fat-Shamed BF Is the Ultimate Example of #RelationshipGoals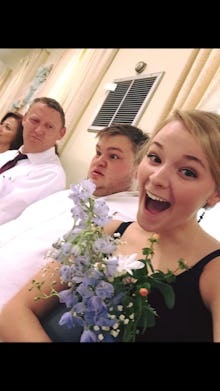 With all the misogynistic body-shamers targeting women online these days, it's easy to forget that plenty of men are being fat-shamed too.
Ashley Stevens and her boyfriend Christopher Glenn Reed were reminded of this fact when a friend's picture of them at a wedding was posted on Reddit. Response to the photo quickly turned ugly, with more than 2,600 commenters mocking Reed's weight and appearance. 
"Is her boyfriend somewhere behind the fat and mildly retarded gentleman?" one aspiring Reddit comedian wrote. 
Best girlfriend ever: When Stevens saw that the photo had been posted on Reddit, she was irate. She took to her Facebook page to address the haters. While it appears her post has since been removed, Cosmo published a screenshot.
In addition to putting the judgmental commenters of Reddit on blast, Stevens also managed to serve up some serious #RelationshipGoals, telling online commenters that she considers herself lucky to be dating such an awesome dude, regardless of his body size.
"I won the jackpot with Christopher," she wrote. "He may not have rock hard abs like the world tells girls to want in a guy, but really, why does that even matter when you are trying to really find someone to spend the rest of your life with? He is so thoughtful and patient, he always shows me how he loves me in little ways, he is my best friend. I love him for who he is and he loves me for who I am. Understanding, loving, and hilarious, which is so rare to find these days!!"
She ended with a badass message for the Reddit troll army:
"So as [for] those rude comments, we know the truth and we will block out the haters. Enjoy our picture though. Lol."
A despicable trend: While we tend to think of body-shaming targets as female, Reed is not the first man to be brutally mocked for his weight, particularly online. Earlier this year, Sean O'Brien, an overweight man from Liverpool in the United Kingdom, was ridiculed on social media simply for busting a move at a party; he became known on the internet, not always kindly, as the "Dancing Man." And let's not even talk about Rob Kardashian, whose recent weight gain snowballed into a public, high-profile episode of male fat-shaming.
The good news, however, is that not all people on the Internet are assholes. After being cyberbullied on social media, O'Brien gained the vocal support of thousands, including a quite few celebrities. Kardashian also has a loyal army of fans who support him at any size.
And as for Stevens and Reed? They're clearly happy and in love — an important reminder that looks are only a very small part of the equation when it comes to a successful relationship. 
So to quote Stevens' Facebook note: "Enjoy our picture. Lol."
h/t Cosmopolitan