Parents Are Freaking Out Over This Obscene McDonald's Toy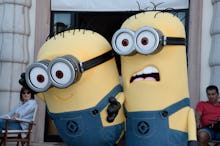 The ubiquitous Minions from Despicable Me — those squealing yellow characters that are taking over the Internet — just showed their dark side, and parents are freaking out.
Some McDonald's customers are convinced the lovable Minion toys coming with their kids' Happy Meals are actually shouting "What the fuck?!" mixed in with their regular vernacular of goofy sounds and incoherent nothings.
There are multiple versions of the toy, but the culprit here is the two-eyed caveman wearing a loincloth. You can judge for yourself what the phrase sounds like.
Pierre Coffin, director of the Despicable Me movies and co-creator of the Minionese language, says the sound quality is so poor on the toys that it could really be anything — just not "what the fuck."
"I'm not saying what people with a twisted mind seem to be hearing," Coffin told Mic via email. "If it was my intent to say inappropriate stuff, you'd hear it, I promise you. But I'd be pretty stupid doing it in a movie for all audiences including kids. I don't think myself as being very intelligent, but I'm certainly not that dumb."
Still, the parents worry their kids are going to start screaming the same phrase. "[My kids] are old enough now where they're going to mock anything they hear from a toy," said one father, Robert King, according to Columbus, Ohio's FOX28. "It's coming from a toy. They're going to assume it's OK to say that."
McDonald's execs said in a statement to FOX28 that the Minion is just expressing its heritage.
"Minions speak 'Minionese,' which is a random combination of many languages and nonsense words and sounds," the statement said. "'Minionese' has no translation to or meaning in any recognized language. Any perceived similarities to words used within the English language are purely coincidental."
From that statement, we can probably glean there won't be a toy recall.
h/t Gizmodo