Watch Amy Schumer Troll Comedian Hannibal Buress on His New Comedy Central Show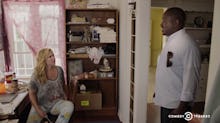 Comedian Hannibal Buress has a Twitter troll. He just couldn't have guessed that said troll would be Amy Schumer.
During the premiere episode of his new Comedy Central show Why? With Hannibal Buress, Buress brought in the channel's brightest new star for a sketch about a deranged online hater. The reveal that Schumer is the woman behind the madness is a delightful sight gag — and the sketch itself is hilarious too.
On the show, the comedian intersperses sketches with bits of stand-up comedy. The format is similar to Schumer's own show, Inside Amy Schumer, hence her jokes about being worried Buress is taking over for her.
For Comedy Central, Why? must have been something of a risk. Though Buress is extremely talented, he's best known on a wider stage for his supporting role on Broad City and starting the renewed wave of focus on the numerous rape allegations against Bill Cosby. His name recognition so far pales in comparison to, say, Schumer — but one could have said the same about Schumer when Inside Amy Schumer debuted three years ago.
Having Schumer pop up on the first episode is a savvy move on Buress and Comedy Central's part. It puts him in close association with the network's biggest star. If all goes well, he could be the cameo appearance in a new star's show in a few years.
Watch the full clip below.