Watch Young Senator Barack Obama Campaign for Bernie Sanders in 2006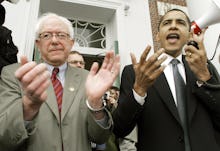 Barack Obama whipping up support for a "socialist" congressional candidate? It happened. 
Back in March 2006, the future president traveled to Vermont to headline a rally and fundraiser for then-Rep. Bernie Sanders, an independent running for Senate, and Pete Welch, a Democrat seeking election to Sanders' House seat. 
"The prominent young politician," as Obama was described then in the View, a University of Vermont campus weekly, played to an overflow crowd at the school's Ira Allen Chapel. Before the event, 500 people gathered on the steps outside the venue, where Obama addressed them using a megaphone. 
"When ordinary people decide they want a different future for themselves and for their children and their grandchildren, and they come together and work at a grassroots level, it doesn't matter how much money is spent," Obama said, previewing a theme that would dominate his first presidential campaign, "it doesn't matter what the powers and principalities say; we can bring about a change."
Obama also teased Sanders about his cult following in Vermont.
"How do you campaign where everybody knows you?" he asked. "I mean, what's the point?" 
Sanders would go on to win his race with 67% of the vote.
Watch the whole video here: 
A winning strategy: Both Sanders and Welch won election in 2006, as the Democrats took back control of the House and Senate. Vermont's lone House member, Welch has been reelected four times. Two years later, the junior senator from Illinois would defeat Sen. John McCain (R-Ariz.) to become the nation's 44th president. Today, Sanders is running again, and again to follow Obama, this time into the White House. The odds are stacked against him, but the formula, as we see in this clip from nearly 10 years ago, is crystal clear.