DJs Are Trolling Audiences with Terrible Drops, and the Videos Are Going Hilariously Viral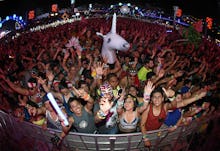 EDM drops are played out. They've become so ubiquitous and overblown in recent cuts that the line between parody and actual music has become difficult to distinguish. Yet a handful of DJs may have found the perfect replacement. At a recent set in Brisbane, Australia, DJ duo Mashd N Kutcher hit their audience with what may be the most unexpected and jaw-dropping drop ever heard. The track builds and builds, reaching for face-melting glory, coming closer and closer, when suddenly...
Smooth. For the unhip and uninitiated, that is a sample of Spandau Ballet's 1983 new wave classic "True." Watching hundreds of amped-out ravers suddenly moan in disappointment has proved to be a true delight. The clip has gone viral, getting picked up by Stereogum, Mashable and the Independent. But the funniest part is this seems to be the beginning of a much larger trend. As Stereogum points out, last October, Adventure Club replaced DJ Snake's and Lil Jon's explosive drop "Turn Down For What" with a little Spandau. A few days later, DJ Mallon did the same thing.
The Spandau drop may be the next hot trend in EDM, after chopped-up vocal samples and trap beats.
The reason EDM drops works so well is because they tap into one of the most fundamental principles of musical comprehension: tension and release. It's a comically exaggerated version of a principle that composers like Beethoven and Bach used to their benefits centuries ago — one that inspires most of the enjoyment we get from music. Are there any better ways to release the tension of a tightly-wound EDM build than with a little Spandau Ballet? No, there are not.
The Spandau drop is the new Rick Roll. And goodness, is it delicious.
h/t Stereogum