South Carolina Gov. Haley Signs Bill to Officially Remove Confederate Flag From Statehouse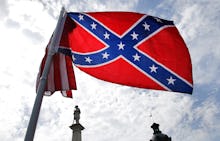 It's official. 
"Today I am very proud to say that it is a great day in South Carolina," Republican Gov. Nikki Haley said Thursday moments before she signed Senate Bill 897 to officially lower the Confederate battle flag from the grounds of the South Carolina Statehouse. The flag will be moved to an "appropriate display" at the Confederate Relic Room and Military Museum. 
The bill first passed through the state Senate on Monday with a 37-3 vote before making its way to the state House for a tougher fight Wednesday. While in the state's lower chamber, the bill faced an onslaught of opponents' amendments before passing by a 94-20 vote in the early hours of Thursday morning.
The legislative process was extended by several hours into the early morning due to a seemingly endless stream of proposed amendments being debated and all eventually voted down or tabled. Almost all the debates appeared to be aimed at trivial matters, presumably in a ploy to stall the inevitable.
During the debate, state Rep. Jenny Horne openly criticized the chamber for taking so long, saying in a speech that has since gone viral, "The people of Charleston deserve immediate and swift removal of that flag from these grounds."
The Confederate battle flag has flown in one form of another over the South Carolina Statehouse grounds since 1961. In 2000, during another contentious battle, pro and anti-flag forces agreed to a compromise that saw the standard removed from the Capitol dome and placed in its current location next to the Confederate war memorial. 
The issue had been considered politically untouchable until the racially motivated massacre of nine people at a historically black Charleston, South Carolina, church last month. One of the dead included South Carolina state Sen. Clementa Pinckney, whose desk in the Senate chamber, draped in a black flag, loomed prominently over the debate.
The flag defeat happened more than 150 years to the day after the surrender of the Confederate States of America in 1865.