If You're not Siding With Women, You're Siding With the Abuser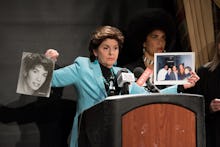 The rape apology Olympics have been going full-force since allegations against Bill Cosby began mounting over a decade ago. But after 2005 court documents showing the accused rapist admitting to buying quaaludes to give to "young women he wanted to have sex with" were made public this week, those wishing to defend Cosby have done some impressive backflips to avoid holding the man accountable for his alleged actions.
Tuesday on The View, co-host Whoopi Goldberg, consistent with her previous views on sexual assault (she defended Roman Polanski in 2012 and admonished potential date rape victims for drinking too much in 2014), refused to deem Cosby an abuser.
"He has not been proven a rapist," she told viewers. "In America, still — I know it's a shock — you are innocent until proven guilty."
Goldberg is right. In a perfect world, our judicial system would prosecute all rapists, and rape would be a crime that all survivors would feel comfortable reporting to police. There would be no reason to stay silent, because rape would be treated like the serious crime it is.
Alas, that is not even close to the world we live in, and Goldberg is well aware of that.
Most rapists will forever remain "innocent" in the eyes of the law. Most rapists will never spend a day in court, let alone in jail. This isn't because they didn't commit a crime; it's because cultural attitudes and legal processes surrounding rape make prosecution extremely rare. 
As I've written before, "rape is the one of the most common and yet continually underreported crimes in the world." Data compiled by the National Research Council found that 80% of sexual assaults are never reported to the police. Hundreds of thousands of rape kits are estimated to be sitting untested in police departments across the country. Even when victims do choose to go through with the often painful and expensive process of prosecution, they are systematically re-victimized by our legal system, the media and public opinion. 
Rape victims often stay silent, it's easy to see why. To ask why more women don't report rape is to ignore the steep mountains they must climb simply to be believed. Women who allege they are victims often are frequently blamed for being out late at night, scrutinized for what they were wearing during the attack or, as Don Lemon asked of one of the Cosby's alleged victims, asked why they didn't do more to resist. 
What's more, those who do come forward with accusations are often threatened physically, as happened to Jane Doe of the Steubenville, Ohio, rape case, who received death threats after coming forward with her story. No wonder women stay quiet — it's dangerous for them to speak up.
Prosecuting is even harder for victims when their abuser is in a position of power, as Cosby was with many of the women who came forward. In her attempt to avoid commenting on the dozens of allegations against Cosby, Goldberg's co-host Raven-Symoné, inadvertently highlighted the very power dynamic that keeps so many women quiet.
"I don't like to talk about it much because he's the reason I'm on this panel in the first place, he gave me my first job," she told the audience. "You need the proof, and then I'll be able to give my judgment."  
Symoné's comment that she prefers not to judge because of her professional relationship with Cosby echoes the reason why Barbara Bowman says she feared to speak up about her own alleged rape. "Bill Cosby was going to make me a star and this was part of the deal," Bowman wrote in the Washington Post.
Symoné also voiced the need for "more facts" and "more people" to "come up" before condemning Cosby, despite the fact  that 40 women have come forward with accusations. The assumption is that we need more victims to publicly come forward with the traumatic details of their stories before we believe them. What would be a good number of women? Would 50 suffice? How about 60? 
In order to believe that one man is telling the truth, we'd have to believe that more than 40 women are lying. If that's not misogyny I don't know what is.
The depressing irony is that by asserting that the neutral position is not to believe women and to wait for additional "evidence," Goldberg and Symoné are just reinforcing the same assumptions that make reporting so hard for victims of abuse. Their media circus is only validating the fears that many women have when they come forward with allegations — that is, that they won't be believed, and that they will be re-victimized by public opinion or the legal system.
In the case of Bill Cosby, there is no neutral position. To disbelieve victims is not to side with our judicial system, it's to hide behind its flaws. If you're not siding with women, you are siding with an alleged serial rapist.