Apple Has Quietly Released iOS 9 — Here's How to Download It Now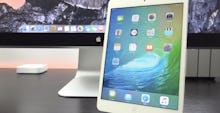 Apple is getting ready to release iOS 9, a new version of the iPhone's mobile operating system. 
It doesn't look too different from the OS you're used to, but it fixes the issues smartphone users love to gripe about. You'll be able to find subway routes in Apple Maps, the Notes app won't suck anymore and Settings will be searchable. Unfortunately, it's not coming out until September. Not officially, at least.
Even if we're not supposed to see the update until then, there are already a variety of ways to get hold of the beta-testing version of the software. To get the the official, safe download of the upcoming iOS 9 while it's still in the testing phases, you can simply sign up for Apple's beta program here.
If you're going to update to a beta version of iOS 9, make sure you back up your phone so that you can restore it from iTunes if everything falls into shambles.
But there's another way to get hold of the new beta, if you're willing to take the risk. Usually, to access this version of iOS 9, you'd need a "UDID," an ID that certifies you as a software developer who might make apps for the upcoming iOS. 
On a YouTube channel appropriately called "iCrackUriDevice," however, they expose a flaw that allows anyone to get access to the new version of the iOS, explained in this video below:
It's a little complicated and involved, but if you're eager to try it, you'll get all of the newest features of iOS 9 while your friends wait months to try it.
Warning: This is not a safe way to download a software update. If you're going to make this update, make sure you try it on an older phone — or, first, back up your phone so that you can restore it from iTunes if it fails. After all, this is a kind of basic hacking known as "jailbreaking" that can make it difficult to continue updating the phone in the future. There are even entire guides for how to prepare for this kind of iOS 9 update.
Otherwise, if you can keep using Google maps for your public transit schedules until September, we'd advise just waiting it out.