Watch the Exact Moment the Confederate Flag Came Down in South Carolina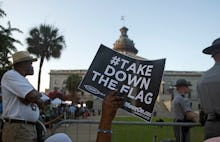 Friday, July 10, 2015, 10:09 a.m.
That is the moment history will record when the Confederate battle flag flying over the South Carolina Statehouse grounds finally came down. 
South Carolina officials, including the state's Republican governor, Nikki Haley, attended the event, along with crowds of ordinary Americans from both sides of the argument, many of whom waited hours to catch a glimpse of the big moment.
As soon as the flag began to come down, the crowd erupted in cheers before eventually shifting to a loud chorus of "Nah Nah, Hey Hey, Kiss Him Goodbye."
Only moments later, President Barack Obama also tweeted out his appreciation for the flag's removal.
Law enforcement were also out in droves to head off any possible violence from groups as varied as the Ku Klux Klan and the New Black Panthers. The State, a local newspaper, reported a number of roads around the capital were closed. 
The Confederate flag, a politically untouchable issue mere weeks ago, exploded into the public consciousness after a gunman left nine dead at a historically black church in Charleston, South Carolina. Among the victims in the racially motivated massacre was State Sen. Clementa Pinckney. In postings online, the gunman posed with the Confederate battle flag and other historically racist icons. 
While Gov. Haley and much of the state's political establishment coalesced behind the flag's removal, the celebration Friday among anti-flag forces was no sure bet. While the State Senate swiftly voted to remove the flag on Monday, the proposal faced a tougher climb in the more conservative State House of Representatives. 
On Wednesday, the chamber debated the bill for 13 hours as opponents offered dozens of amendments designed to delay the measure by creating differences between between the House and Senate versions. Republican Charleston Rep. Jenny Horne called out these stalling tactics Wednesday evening by in a roughly five-minute monologue that quickly went viral, in which she said the ongoing debate was adding "insult to injury." The House ultimately voted early Thursday morning on an unamended bill and decided that the flag's time had come. Haley's signature later that day made it official. 
"Today I am very proud to say that it is a great day in South Carolina," the governor said Thursday at a signing ceremony. Haley used nine pens to sign the bill, which were then presented to family members of the victims of the massacre. 
If all goes according to plan, the flag, which has flown continuously on the statehouse grounds since 1961, will be moved to its new home in the state's Confederate Relic Room and Military Museum.