Jerry Seinfeld Just Made His Worst Joke Yet — And It's About Trans People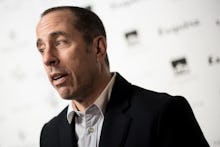 Jerry Seinfeld is no fan of political correctness, but a new joke of his will surely land him in hot water with the people who do care.
On a new episode of his talk show web series, Comedians in Cars Getting Coffee, with incoming Late Show host Stephen Colbert, Seinfeld makes a joke about transgender people after seeing Colbert's daughter's car.
The first joke, asking if his daughter is having a sex change, is tacky but relatively inoffensive. Colbert laughs it off. Then he doubles down:
To Colbert's credit, he seems utterly unamused by the joke, basically ignoring it entirely before the shot is edited away to the next:
Seinfeld's joke arrives on the tail of his recent complaints about political correctness in comedy, particularly among younger people. He recently said he doesn't play colleges and is frustrated by policing of language.
"They just want to use these words: 'That's racist;' 'That's sexist;' 'That's prejudice,'" he said, according to Entertainment Weekly. "They don't know what the hell they're talking about."
Watch the full episode of Comedians in Cars Getting Coffee on the show's website.