Video Shows a Dozen Philadelphia Police Officers Beating an Unarmed Black Man for Biking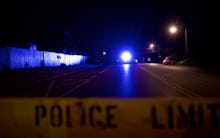 Philadelphia police are facing questions after video emerged of multiple officers beating an unarmed man April 4 for allegedly riding his bicycle in the wrong direction down a one-way street. Los Angeles blogger Jasmyne Cannick published the footage Wednesday after the Carroll family sent her the video, the Huffington Post reported. 
In the video, officers surround 22-year-old Tyree Carroll while calling him obscenities like "motherfucker" and "piece of shit." During the encounter, police punched, kicked and allegedly used a Taser on Carroll while he laid on the ground. The film also showed Carroll screaming for his grandmother who lived nearby.
WARNING: GIFs contain graphic footage.
A nearby neighbor filmed the incident. Throughout the video, the neighbor can be heard repeatedly remarking about the number of cops and excessive force the department had brought to bear. "Twelve cops, 12 cops, 12 cops" she said as the altercation intensified. 
The Philadelphia Police Department released a statement Thursday saying they were aware of the video and that appropriate steps were being taken. 
"An investigation into this matter is currently underway to determine all of the facts surrounding the incident as well as to identify all of the officers depicted in the video," the statement read. 
The statement also said Carroll has bitten several officers and was found with 5.3 grams of crack cocaine. The police also said despite threats made by an officer in the video, there was no evidence a Taser was used.
Speaking to the Pennsylvania Prison Society, Carroll admitted to biting an officer but said he only did so out of fear and because he was having difficulty breathing after being placed in a chokehold.  
The fears are not without foundation. Last July, Staten Island resident Eric Garner died after being put in a police chokehold for the crime of allegedly selling loose cigarettes. In video taken at the scene, Garner was heard telling his attackers — New York Police Department officers — that he couldn't breathe but it was to no avail. While not illegal in New York, the NYPD banned the chokehold in 1993 because of its connection to a rising number of deaths including "traumatic asphyxia."
Biting or no biting, there must be an alternative to a dozen officers punching and kicking a single unarmed man. While a full accounting of this case is more than called for, the video already speaks 1,000 words.