Can You Spot the Men in This Fashion Show?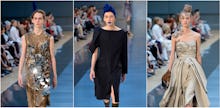 A typical haute couture show features models elaborately clad in fantastical attire, like these getups from Paris Fashion Week, which is currently underway:
These are the models from John Galliano's Paris show for his haute couture label Maison Margiela. 
What's the difference? 
The second group are men. Galliano featured three male models on the runway in a show dedicated to women's fashion, and they looked as stunning as their fellow catwalkers. But if you couldn't decipher their gender, you're not alone. Fashion writers the world over had difficulty noticing, too.
"Waifish, with high cheekbones and long hair, [the male models] weren't even immediately recognizable as men, and consequently showed that idealized femininity — or the fashion industry's conception of it, at any rate — isn't restricted to females," Marc Bain wrote at Quartz.
They were "almost completely undetectable, save some unshaven legs and much-larger shoes," wrote Ellie Shechet at Jezebel. That subtle detection might have been intentional, as most of the other clothes in the collection were floor-length gowns, according to the Guardian. 
"Galliano seemed to delight in the unexpected masculinity," wrote Jess Cartner-Morley at the Guardian. "The men were given shorter skirts, the better to showcase their hairy legs." 
This is a difference from recent years, when model Andrej Pejic walked in Jean Paul Gaultier's show, according to the Guardian. Pejic, who now identifies as a woman named Andreja, masked all signs of masculinity while wearing a stunning, floor-length, Cartner-Morley wrote.
This is a game changer for haute couture. "[Haute couture] is the most traditional and rarified strata of fashion, still dominated by corseted shapes, exaggerated femininity and fantastical gowns. In this context, a man in heels and a dress is unashamedly provocative," Cartner-Morley wrote.
While androgynous looks are increasingly sprouting up in men's fashion shows, and retailers have begun embracing the idea of clothing that is gender-neutral, androgyny in haute couture represents acceptance on a higher level. Haute couture clothing is intricate, as it straddles the line between art and clothing. Shows featuring such represent the epitome of femininity in the fashion world, which doesn't hold couture shows for men, according to Quartz.
Galliano's show has flipped this notion of femininity on its head. In subtly including male models in a category of fashion that historically serves as the harbinger of all that is feminine and beautiful, Galliano has expanded the concept of beauty across genders.
Sure, he has his critics. And by no measure is Galliano a beacon of acceptance of inclusivity and acceptance. Many have pointed out the lack of racial diversity in his show, and Galliano was ostracized from the fashion world years ago for his anti-Semitic remarks, though he has since made a slow comeback. 
However, in this instance, his designs are a cause for celebration, and his casting of male models is something to admire, and hopefully will be embraced by other leaders in the industry. 
h/t Quartz