Pope Francis Begs Bolivian People for Forgiveness for Church's Role in Colonialism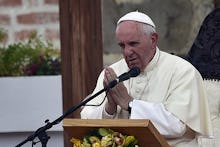 Pope Francis, never shy to speak his mind, used a recent stop in Bolivia during his week-long, three-country swing through South America to talk about a somewhat delicate subject the church and past pontiffs usually skip over: colonialism.
Speaking to a hall of workers Thursday, Francis offered a scathing assessment of European colonialism and the church's own complicity in the practice. 
"Some may rightly say, 'When the pope speaks of colonialism, he overlooks certain actions of the church,'" said Francis. "I say this to you with regret: Many grave sins were committed against the native people of America in the name of God," the New York Times reported. Francis is the first Latin American to hold the top job at the 2,000-year-old Roman Catholic Church.
"I humbly ask forgiveness," the Pope added, speaking of the offenses of the church and the crimes committed against indigenous peoples during the "so-called conquest of America."
The contrition led to a rare compliment from Bolivia's leftist president Evo Morales, who has been highly critical of the church in the past. "For the first time, I feel like I have a pope: Pope Francis," Morales said, according to the New York Times. As an additional token of his affection, Morales gave Francis a hammer and sickle, an iconic communist symbol, in the form of a crucifix. 
Francis' remarks were just another reminder of his willingness to ruffle feathers and of his own more liberal views on a number of sensitive topics. In 2013, the Pope raised more than a few eyebrows when he appeared to take a softer line on homosexuality, telling journalists, "If someone is gay and he searches for the Lord and has good will, who am I to judge?" The pope has also taken vocal positions on climate change, global human rights and the question of whether dogs actually go to heaven.  
All that's left now for the Latin American pope might be his views on Donald Trump.